14 Boat or Kayak Activities in Menorca – 2020
Última actualización: 10/10/2019
Menorca is an island with more than 100 beaches scattered throughout its coast. Most tourists visit multiple beaches by land accessing each one.
If instead of going by land you go by boat, you have the possibility to discover more isolated coves or visit more coves at the same time.
Here you have a complete list of 14 activities in Barco or Kayak that you can do during your holidayiness in Menorca.
Think that depending on the weather the boat's course may be different every day, so you may not be able to visit exactly the beaches you want on an excursion.
Boat Tours on the North Coast
Departures from Fornells
In Fornells is where there is the most offer of water activities and sports.
Type of Excursion: Shared
Possible Beaches: –
Duration:3 hours
Passengers:Maximum 12
Food and drink: Water, soft drinks, fuet, cheese, potatoes
Exclusive price:12*60 x 720
Shared price:60 euros/person
Guide:Arnau
Recommendation: Couples. If you want to try sailing at sunset. You don't sail all the time.
Cancellation Policy:Free up to 48h before
Type of Excursion: Shared
Duration:8 hours
Passengers:Maximum 7
Food and drink: Food, aperitif and water and soft drinks
Exclusive price:7*110 o s 770
Shared price:110 euros/person
Guide:Arnau
Recommendation: Couples and Families.
Cancellation Policy:Free up to 48h before
Type of Excursion: Shared
Possible Beaches: ?
Duration:3 hours
Passengers:Maximum 32
Food and drink: Cocktail
Exclusive price:35*32 x 1120
Shared price:35e/person
Guide:–
Recommendation:Friends and Families
Cancellation Policy:Free up to 48h before
Type of Excursion: Shared
Possible Beaches: Pudent Cove, Cavalleria, Pregonda
Duration:3h 30min
Passengers:Maximum 12 people
Food and drink: Water and soft drinks, fuet, potatoes and cheese
Exclusive price:65*12 x 780
Shared price:65 euros/person
Guide:
Recommendation:
Cancellation Policy:Free up to 48h before
Type of Excursion: Exclusive
Possible Beaches: Salty Goat,Cala Pudent, Arenal de Son Saura, Cala Tirant, Cala Viola de Llecant
Duration:8 hours
Passengers:Maximum 4
Food and drink: –
Exclusive price:270 euros
Shared price: –
Guide:–
Recommendation:Friends, Couples, Families
Cancellation Policy:Free up to 48h before
Type of Excursion: Shared
Possible Beaches: Pregonda, Cavalleria, Mica, Binimel-la
Duration:3h 30min
Passengers: ?
Food and drink: –
Exclusive price: –
Shared price:29 euros/person
Guide:Included
Recommendation:Families, Friends
Cancellation Policy:Free up to 48h before
Departures from Es Grau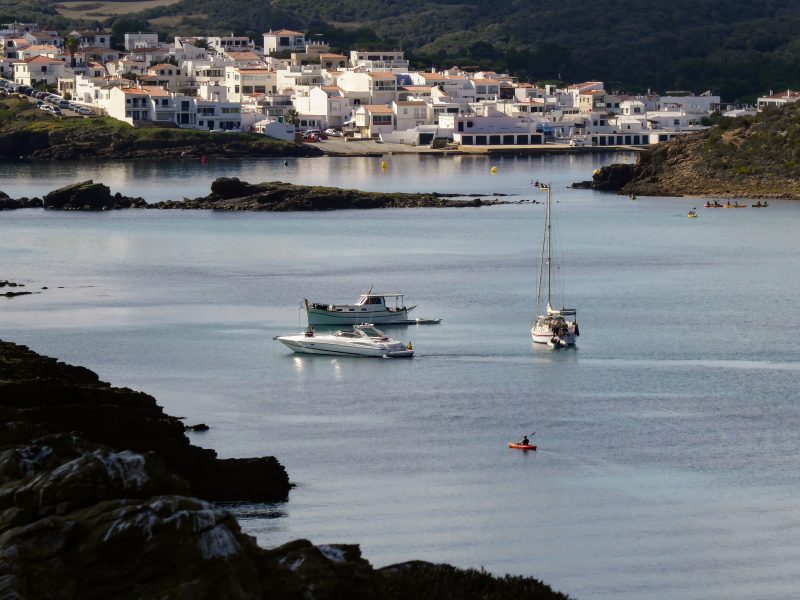 Type of Excursion:exclusive for free
Possible Beaches: Arenal den Moro, Tamarells, Vidrier
Duration:2 to 4 hours (depending on your needs
Passengers:maximum 2 per kayak
Food and drink: –
Exclusive price:30o/4 hours
Shared price:30o/4 hours
Guide:–
Recommendation:Couple, Friends, Families
Cancellation Policy:Reservation and payment at the time of departure
Boat Trips on the South Coast
Departures from Ciutadella
Type of Excursion: Shared
Possible Beaches: Son Saura, Es Talaier, Turqueta, Macarelleta, Macarella
Duration:7 hours
Passengers: 50
Food and drink:Mixed paella, sangria and juices
Exclusive price: –
Shared price:49 euros/person
Guide:–
Recommendation:Families, Young Friends
Cancellation Policy:Free up to 48h before
Departures from Cala Galdana
Type of Excursion: Exclusive
Possible Beaches: Macarella, Macarelleta, Trebaluger, Fustam, Escorxada, Binigaus
Duration:2h 45 min
Passengers:12
Food and drink:drink and aperitif
Exclusive price:300 euros
Shared price: –
Guide:Pattern
Recommendation:Friends, Family, Couples
Cancellation Policy:Free up to 48h before
Type of Excursion:
Possible Beaches: Macarella, Macarelleta, Trebaluger, Fustam, Escorxada, Binigaus
Duration:
Passengers:Maximum 12
Food and drink:drink and aperitif
Exclusive price:12*60 x 720
Shared price:60 euros/person
Guide:Sebastian
Recommendation:Couples, Friends, Families
Cancellation Policy:Free up to 48h before
Departures from Cala in Porter
Type of Excursion: Exclusive
Possible Beaches: Cales coves
Duration:3 hours
Passengers:Maximum 2 per kayak
Food and drink: –
Exclusive price: –
Shared price:40 euros/person
Guide:Miguel, Adria, Damia
Recommendation:Couples, Families, Friends
Cancellation Policy:Free up to 48h before
Type of Excursion: Exclusive
Duration:4 hours
Passengers:Maximum 4
Food and drink: –
Exclusive price:150 euros
Shared price: –
Guide:–
Recommendation:Friends, Couples
Cancellation Policy:Free up to 48h before
Departures from Mao
Type of Excursion: Shared
Duration:1 hour
Passengers: 50
Food and drink: –
Exclusive price: –
Shared price:12 euros/person
Guide:–
Recommendation:Family, Friends
Cancellation Policy:Free up to 48h before
Type of Excursion: Shared
Duration:3 hours
Passengers:Maximum 8
Food and drink:drinks
Exclusive price:54*8 x 432
Shared price:54 euros/person
Guide:Joseba, Iñaki
Recommendation:Friends, Family
Cancellation Policy:Free up to 48h before