From Galdana to Macarelleta – 5 km Viewpoint Route
Última actualización: 12/12/2019
The Route
The excursion from Cala Galdana to Cala Macarella and Macarelleta is one of the simplest and most beautiful that can be done in the southern area of Menorca.
The tour starts in Cala Galdana, where it is possible to leave the car in one of the free car parks in the area. From Cala Galdana you have to take the famous Camí de Cavalls (it's hard to get lost).
Along the way there are signs with A Mirador symbol (one eye) indicating each of the detours to the viewpoints (if you do not stop at the viewpoints the distance is much smaller).
The tour passes through small forests and cliffs,and can be made easy with any footwear, although it is advisable to wear comfortable shoes.
The whole route is easy,it is well signposted and is suitable for people of any age who can walk for 1 hour. Also because it's very popular, especially in summer, you can always ask someone if you're not sure.
Tour Facts
Distance: 10 km (5km one way, 5km turn)
Difficulty on foot:easy
Difficulty on a bike:very difficult
Walking time: 3h (round trip, with stops at viewpoints)
Time on my bike: – (The times I have done it I have ended up leaving the bike 2km out)
Viewpoint 1 – Sea Views
The first viewpoint of the route has sea views and is not very spectacular,but if you want to complete the entire route it is ok to make the stop to see the contrast of the colors of the water.
Viewpoint 3 – Views of Macarelleta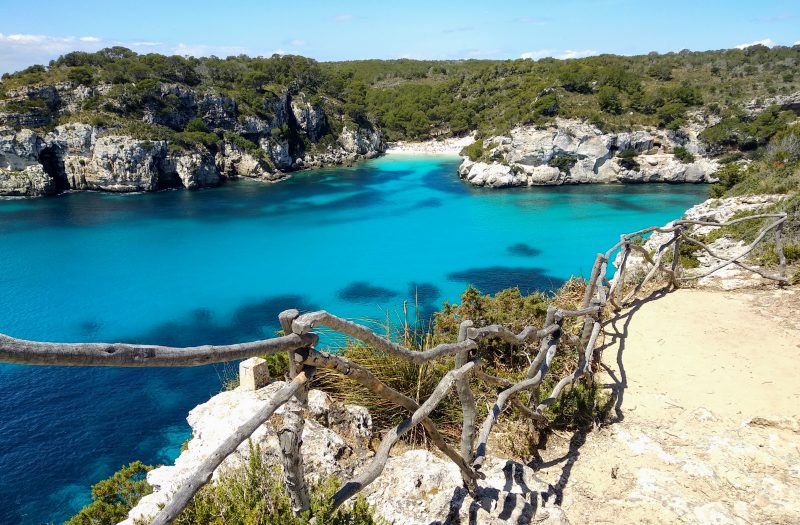 The third viewpoint is probably the most beautiful of the route,as it has views from far above the bay and the beach of Macarelleta.
From this viewpoint you can see, a little further down and to the right, the 4th viewpoint of the route, which is a kind of cantilever over the water.
Viewpoint 4 – Views of Macarelleta (below)
Viewpoint 5 – Views of Macarella
The 5th viewpoint of the route is the most hidden and least known in the area for several reasons:
Not indicated anywhere
To get there you have to go long Macarelleta (something almost no one can do, it's too pretty!)
The climb to the viewpoint is quite tired, you need about 10 minutes walking between shrubs and plants that scratch a little legs and ankles.
This 5 km tour DOES NOT INCLUDE the distance to the 5th viewpoint. That is, if you want to reach the 5th viewpoint from the beach of Macarelleta you will have to do 1km more (500m one way, 500m round) and add another 20 minutes to the route.
Photos of Los Miradores y las Vistas
Map and Points of Interest
Another 30 Viewpoints
If you like viewpoints and want to discover more places and corners of Menorca I recommend you read this article where I show you 30 viewpoints distributed throughout Menorca.