The 5 Best Boutique Hotels in Ciutadella
Última actualización: 13/12/2019
In Ciutadella there are a lot of Boutique Hotels to stay in as a couple. Whether you are honeymooning or just want to spend a romantic few days in Menorca,boutique hotels have a special charm and authentic terraces and architecture very different from a traditional hotel.
If you travel to Menorca with your partner to spend a few romantic days and you want to stay in a Boutique Hotel in Ciutadella, here are the ones I recommend to friends and family.
But before you see the ranking, here's a bit of history and information about these hotels.
What is a Boutique Hotel?
The Boutique Hotel is a different hotel concept than the large hotel chains of a lifetime.
A Boutique Hotel, unlike a chain hotel, seeks to differentiate itself from a homogeneous style offered by a traditional shopping hotel.
The 3 features that differentiate a Boutique Hotel from a Traditional One are:
Location: are located in urban areas and in central neighborhoods and surrounded by local commerce.
Architecture and Design:they have a particular architecture with careful details. Sometimes they are designed to follow a specific theme. For example, a boutique hotel such as Ca S'Arader has 4 rooms with the names of the 4 characteristic winds of Menorca. The decoration of these hotels also tries to use typical elements of the area in which it is located.
Personalized Service: they try to get ahead of the customer's needs, they are often managed directly by the owners,and the service is very personalized. They usually make detailed recommendations of plans, beaches or establishments according to the tastes of the client.
Good: Attract A Different Tourism and High Purchasing Power
Some think (there is no official study or data to prove it yet)that Boutique Hotels attract a type of tourism that is beneficial to an island like Menorca.
As opposed to all-inclusive tourism (in which the tourist does not spend much outside the contracted package), the tourism of Boutique Hotel attracts public of a lot of purchasing power and, theoretically,with preferences for local culture and gastronomy.
This has the following teoric benefits:
The tourist of Boutique Hotel spends more on local shops
The tourist of Hotel Boutique spends more on local gastronomy
The tourism of Hotel Boutique encourages thermination of historic buildings or privileged location in urban centers.
Bad: Contribute to neighborhood gentrification and modify local trade
In places like Ciutadella, the offer of accommodation of type Boutique Hotel has multiplied. Although I do not know the exact number, it is clear that the offer of these hotels has more than doubled.
This makes some people think that if boutique hotels continue to proliferate, it will end up happening in cities like Venice:
It travels the inhabitants of the whole year to outlying areas:the central buildings are remodeled and converted into Boutique Hotels. It lowers the offer of accommodation for the whole year and prices increase. This shifts the inhabitants to the outdoor areas, where prices are lower.
The offer of shops around the areas with Boutique Hotelsis modified : With the appearance of tourists from Boutique Hotel, the trade adapts and begins to offer goods and services that the people of the area do not need (at least not so much). They open shops that offer sightseeing tours and excursions, local food shops such as sobrasadas, cheeses and ensaimadas, etc., and gradually the environment looks more like a theme park than it had been all my life.
My Opinion: A Boutique Hotel is Ideal for Couples Looking for Something Different
According to the data of the study of Ismael Yrigoy 2017 it seems that the gentrifying effect in Menorca is caused more by online rental platforms of flats like AirBnB than by the creation of this type of accommodation in the centers of cities,
Considering the positive and negative impact that Boutique Hotels have on cities,I personally believe that they are a good accommodation option for couples.
So if you decide to try this type of accommodation, these are my favorites.
1. Hotel Tres Sants (8 rooms – from 220/night)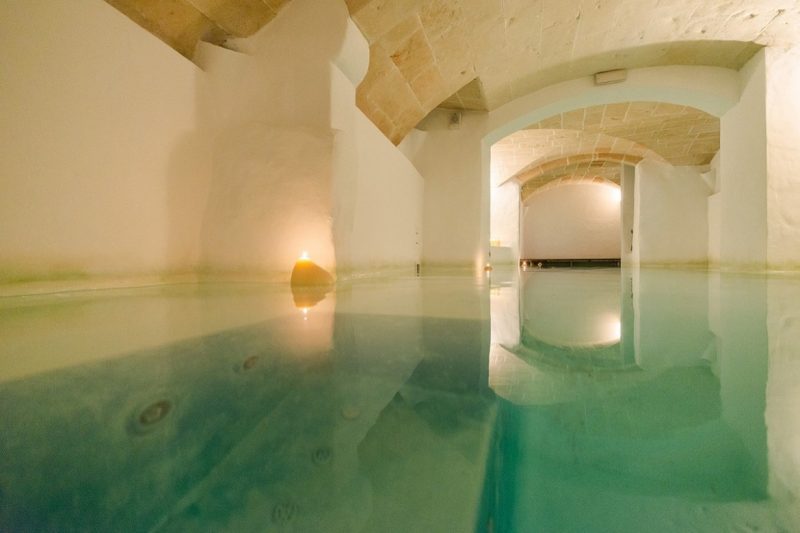 The Hotel Tres Sants is spectacular and is one of the few hotels that has an indoor heated pool, sauna and jacuzzi.
The name of the Hotel is because the Hotel is at the junction of 3 streets with names of Santos:
Sant Sebastia
Sant Crist-fil
Sant Josep
From the terrace you have views of all Ciutadella, the port and the sea,and on clear days you can see the silhouette of Mallorca. For me it is the best Boutique Hotel in Ciutadella.
If you want to stay at Tres Sants you will have to book months in advance,as from June to September it usually fills up very quickly and well in advance.
2. Ca S'arader (4 rooms – from 170/night)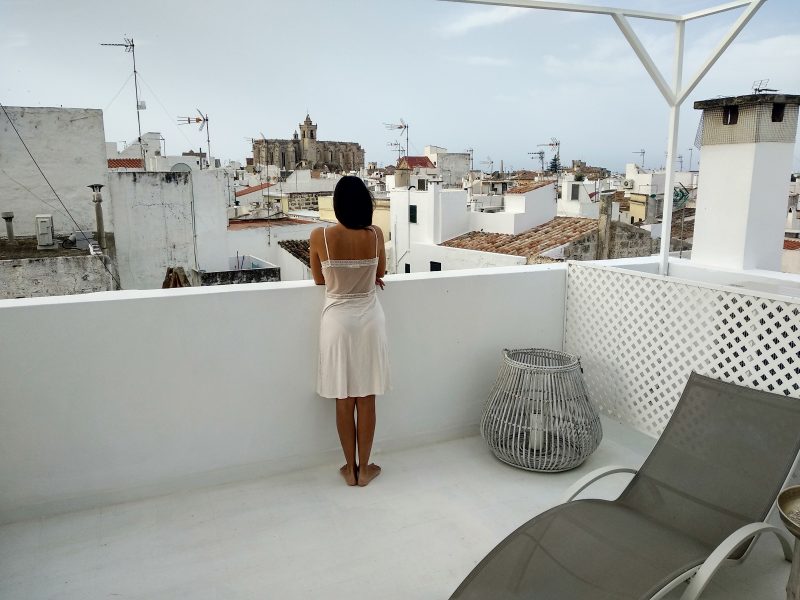 Hotel Ca s'Arader is a small 4-room hotel with the names of the 4 winds:
Tramuntana (the suite with private terrace and views of the Cathedral of Ciutadella)
Ponent
Migjorn
Llevant
The hotel is in very good condition, the rooms are very spacious and comfortable and the bathrooms are very well equipped. The management is carried out by the same owner and the treatment of customers is outstanding in every way.
Breakfasts are made on the terrace in the inner courtyard and are very good and with local products, both sweet and savory.
If you want to stay in Ca s'Arader you will have to book months in advance,as in high season everything is usually reserved.
3. Albranca (5 Rooms – from 150/night)
The Hotel Boutique Albranca belongs to the same group of Hotels as Tres Sants and Carn Araya, and you can tell they do things right.
The highlight of the Hotel Boutique Albranca is its inner courtyard, where you can have breakfast with absolute tranquility in the heart of Cituadella. The breakfasts are incredibly good, the beds large and comfortable and the staff is also excellent.
If you want to stay in Albranca you will have to book months in advance,as in high season everything is usually booked.
Bonus: + Boutique Hotels in Ciutadella
These two boutique hotels also have very good recommendations from everyone staying at them.
4. Can Araya (8 Rooms – from 125/night)
Find out more