My 7 Reasons to Visit Menorca
Última actualización: 10/01/2020
If you have doubts about whether it is worth taking a trip to visit Menorca these 7 reasons will convince you.
As a stalwart fan of Menorca I have made this small summary of the 7 main reasons that make me prefer to spend my holidays in Menorca instead of going anywhere else in the world.
1. Menorca Has 96 Virgin Beaches
The number 1 reason to visit Menorca are its beaches and its summer sun. With 12 hours of sunshine a day and its 131 beaches, Menorca is one of the best destinations in the Mediterranean to enjoy the beach.
When someone thinks of paradisiacal beaches they usually think of distant countries like Thailand, Indonesia, Malaysia, Philippines, … And yet when you have visited these countries you realize that there are many corners of Menorca that do not have much to envy to the tropical waters of half the world.
I have been lucky enough to visit these Asian countries and I have almost always come back thinking that I prefer Menorca.
Menorca has 96 unspoiled listed beaches distributed throughout its coast.
My Top 10 Unspoiled Beaches: These are the beaches that make you prefer to spend the summer in Menorca than exploring faraway countries.
2. Camí de Cavalls – The 185 km GR223 Trail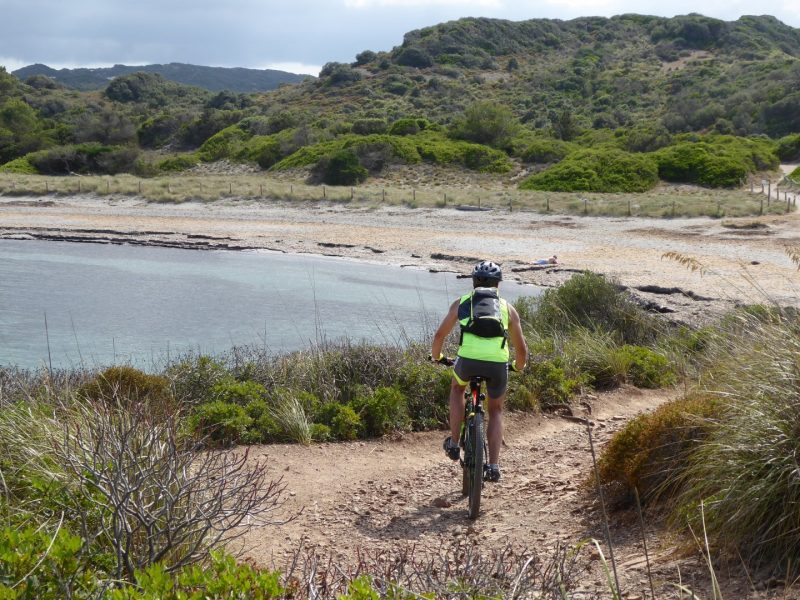 Menorca has the GR223 trail that every year gains in popularity and in users: the Camí de Cavalls (Camíno de Caballos)
The Camí de Cavalls is a 185km GR (Great Tour) that gives the complete turn to the island of Menorca. It is possible to travel the GR223 fully or in stages, and you can make stages of the road on foot, by bike and on horseback.
The Camí de Cavalls is divided into 20 sections:
There are sections of less than 6km suitable for everyone (south of Menorca)
There are sections of 10km without any contact with civilization (northern area of Menorca)
For all this, Menorca can be considered a paradise for lovers of hiking and mountain biking. In addition, several high-level sports events are held every year:
Trail Menorca Camí de Cavalls: Several ultra-distance races that are made in May.
Camí de Cavalls Epic 360: Return to the island walking, running or by mountain biking during the month of March.
I personally have done almost all the sections of the Camí de Cavalls several times and have participated in the Trail Menorca CdC several editions. It never ceases to amaze me how spectacular the landscapes are at any time of the year.
3. Summer Nautical Activities – Sailing and Kayaking
The 4 most popular activities each year are always nautical activities. This is because Menorca is an island that offers many leisure options in the sea for couples, families and friends:
Kayaking tours: there are them of all levels and anywhere on the island
Sailing, boat or jet ski tours: there are shared and private excursions, from 25 euros per person to 800-1000 euros for a full boat.
I have been lucky enough to tour the entire north coast and the south coast by boat, and I always recommend to anyone who visits the island to book a day to enjoy Menorca from the sea.
I have also done several kayak trips and I assure you that they are very worth while. If you can't afford to spend a day sailing, you can almost certainly try a kayaking activity and enjoy the sea and sport at the same time.
4. Gastronomy of Menorca – Spectacular Restaurants, Fish, Meat, Cheeses, Sausages and Sweets
Menorca is an island of less than 100,000 inhabitants and yet it has a very high expenditure level. In any town of Menorca you can find restaurants where they have high quality products (local meats and fish) and with very elaborate cuisine.
Recommended restaurants: There is a wide variety of restaurants, of all styles and even some with km0 cuisine
Bars: Near the beaches and coves you can combine a good gastronomy with the best views.
Gastronomic experiences: You can combine cheese and wine tastings with cooking classes.
I personally enjoy both the local product and the kitchen somewhat more elaborate (but always based on quality product).
5. Popular Festivals of Menorca: Summer Jaleos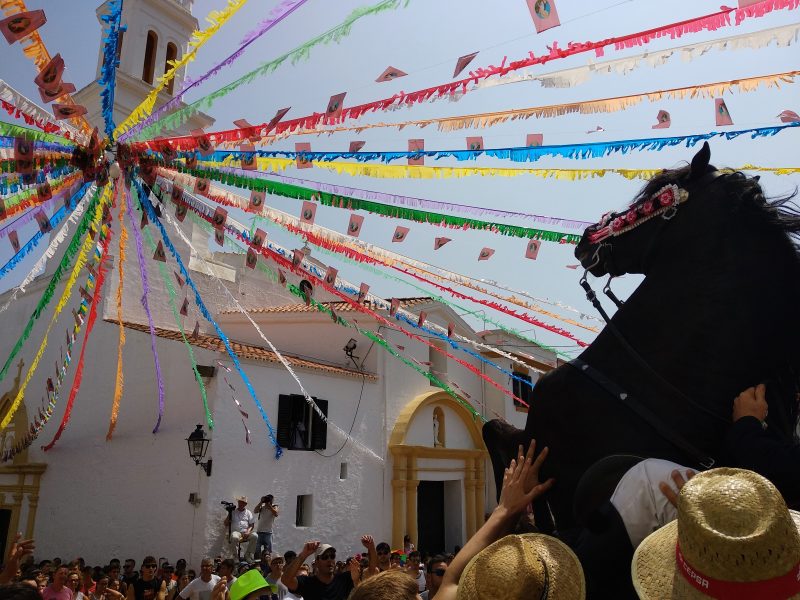 In Menorca every year the popular festivals of each town are held during the summer. The main (or popular) festivities of each village have as their protagonist the horses of Menorcan race.
During the holidays the riders or caixers do different activities riding horses. The most popular activity is the Jaleo, during which caixers enter the squares of the villages (full of people) and make demonstrations of their skill by jumping the horses on their hind legs and circling about himself.
Menorca's most famous festival is that of Sant Joan in Ciutadella: At the end of June (24) the most crowded festival of the island is held in Ciutadella, with tens of thousands of visitors from outside Menorca.
The main festivities are events suitable for all audiences and there are activities of all kinds.
I have personally been able to live the festivities of Cituadella dozens of times, and those of other towns of Menorca also on several occasions. If your travel dates to Menorca coincide with one of the popular holidays I recommend you go to see them at least 1 day.
6. Menorca is an Open Air Museum: It has 1574 Archaeological Sites
Menorca has 1574 archaeological sites according to official sources(Menorca Talayótica). This means that there are 2 deposits per km2, and there are 1401 sites listed as Cultural Interest.
Although this heritage is one of the less well-known attractions of Menorca,from Menorca the important cultural and archaeological heritage of the island is being actively disseminated.
The Menorca Talayótica project promotes Menorca's candidacy to be considered a World Heritage Site by UNESCO. The candidacy Menorca Talayótica includes a selection of the 32 most representative monuments of the heritage of the island (Map).
These are some of the most popular monuments of the candidacy that I have had opportunity to visit (and I liked them very much):
7. Landscape and Diversity: Biosphere Reserve and Marine Reserve
Menorca has been a Biosphere Reserve since 1993.
Even though Biosphere reserves are not protected by any international treaty,the mere fact of belonging to the select group of territories considered a Biosphere Reserve is indicative that we are faced with something "special": there are only 686 territories in the Global Biosphere Reserve Network.
Throughout Menorca you can find areas of special interest. Menorca's best-known area of special interest is the Albufera d'es Grau Natural Park.
Albufera d'Es Grau Natural Park: This Natural Park occupies 5100 hectares in the north of Menorca (near Es Grau) and is the core of the Menorca Biosphere Reserve. It includes wetlands, olive forests, temporary ponds, dune systems and some coastal islets.
Another very important reserve is the Marine Reserve of the North of Menorca. The Marine Reserve of Menorca was "created" on June 24, 1999 from BOIB number 81 (yes, the day of Sant Joan!).
It is an area of the north coast of Menorca in which fishing is prohibited or highly regulated and controlled. Thanks to this the marine fauna has developed over the years, creating a spectacular landscape for those who opt for snorkeling. It is easy to see species such as moray eels, groupers, octopuses and mullet in the north of Menorca.
I personally spend hours and hours snorkeling in the waters of the Marine Reserve of the North of Menorca. It is easy to see a lot of diversity of marine fauna, it is a free activity, fun and suitable for anyone.
Find out more
If you finally decide to travel to Menorca:
And for you… what are the reasons for visiting Menorca?