The 10 Best Beaches and Coves of Menorca – 2020
Última actualización: 05/02/2020
All tourists traveling to Menorca want to know which are the best beaches in Menorca. Well, here we've made the list of the top 10,just like that. Although taste is a very subjective criterion, I guarantee that none of these beaches will disappoint you.
In the selection I have chosen 5 beaches of the south and 5 beaches of the north so that there is more diversity and differences. The southern beaches are usually closer to the developments and those in the north are in more unspoilt and secluded lands.
The main criterion to value the beaches is the landscape and the isolation of civilization,here you will not find beaches with services, bars or hotels on the beachfront. This is the top 10:
1 – Cala Pregonda (north)
Cala Pregonda it's a gem in the north of the island. It is very well valued by visitors to Menorca, located in the middle of nowhere and with mandatory excursion unless you go by sea. Record cover by Mike Oldfield and with a presence in the 2010 Estrella Damm commercials. An almost obligatory visit!
The only drawback of Cala Pregonda is that the sun starts to hit you on your back very early in the afternoon, so if your thing is sunbathing it may not be the best choice. Always bring water for the round trip!
2 – Cala Escorxada (south)
Cala Escorxada is the "unknown" beach of the south. Very few people visit it especially because you have to walk no less than 1 hour to get there.
Without services of any kind it is a frequent destination for boats anchoring on its coast when north wind blows. I'm not going to fool you, you have to really like walking (in summer at more than 30 degrees in the sun) to consider visiting it, but the views along the way and when you arrive are astonishing.
Since the appearance of Taximar in 2013,Cala Escorxada is usually a little fuller than in previous years, but it is still less crowded than most beaches. It is still a spectacular beach, but it is no longer so easy to find the beach with very few people, as the Taximar leaves a few tourists throughout the day. In addition, more and more people are encouraged to take the 1-hour tour to get there, so don't expect to be alone!
3 – Cala Presili (north)
Cala Presili is the infiltrated north. If it wasn't for the rocks and the Favaritx Lighthouse you'd think we're in the south of Menorca. But no, we are in the Albufera des Grau area, next to a lighthouse from another planet and next to Cala Tortuga beach.
To get there you will have to make a small stretch of the Camí de Cavalls suitable for all audiences, and on the return you can contemplate the magnificent Favartix Lighthouse. Enjoy it!
4 – Es Talaier (south)
Es Talaier Es Talaier is Son Saura's little sister. This is the prototype beach in the south of Menorca. Fine, sticky sand and waters that do not prevent you from seeing the seabed and that seen from the sky (drones) are just unbelievable.
Too bad it's usually crowded in summer. To get there you have to make an excursion from Son Saura. The beach is quite small so if you are easily overwhelmed it's better to avoid it in the middle of the summer season.
5 – Cala Pilar (north)
Cala Pilar is not easy to see. Only hikers and privileged boat holders often come close to seeing this magnificent northern cove. On the days that tramontana wind blows it is better not to approach Cala Pilar beach unless your intentions are to fly kites!
The excursion to Cala Pilar is quite long and with the sun it becomes exhausting, so don't forget the water and save some for the return! If you decide to go, when you are about to go down the stairs to the beach I recommend a stop to contemplate the landscape, the Reddish color of the land is spectacular.
6 – Cala Cavalleria (north)
Cavalleria is a well visited beach for many reasons. In addition to being in a unique natural space, it is in the middle of the Camí de Cavalls GR trail. As if this were not enough, it has a huge parking just 5 minutes from the beach.
When people are given an unspoilt beach inside a marine reserve, you add trails and leave it 5 minutes from their air-conditioned car,the only possible result is a crowded beach in summer!
7 – Cala en Turqueta (south)
Cala en Turqueta is the other pearl of the south. After Estrella Damm's advertisement left Cala Macarelleta about to explode crowded with people, Cala en Turqueta has been there to take over. Another direct Southern postcard for your family and friends. The photo you see is taken from the Thalaia de Artrutx, but from the beach you can take very good photos.
The only problem is that tourist boats leaving the port of Ciutadella and Cala in Bosch usually make a 1-hour stop on this beach…
So if you're on the beach at that time you'd better take it easy, the invasion will be slow but steady.
8 – Binigaus (South)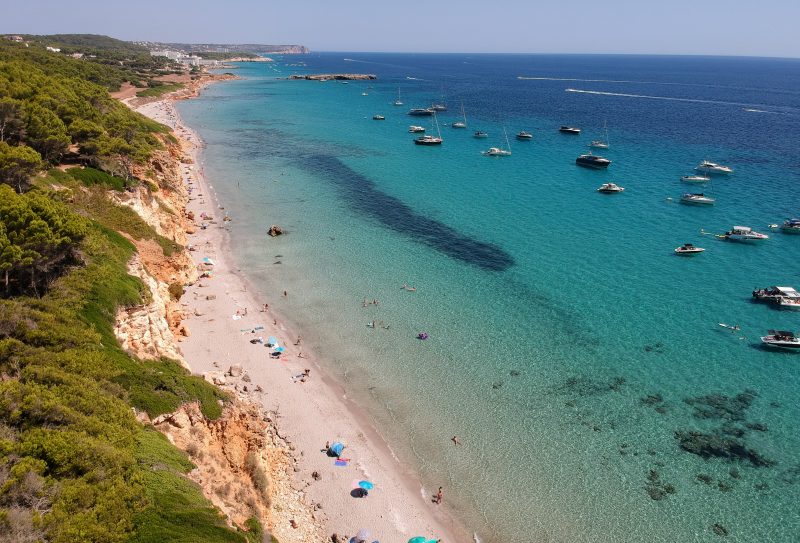 Binigaus it is a beach very close to St. Thomas and halfway to Escorxada. Quite frequented by nudists in summer, it isa beautiful beach with the Cova des Coloms really close to it. Very exposed to the south wind, if you get here on a day south-windy day you can enjoy some very fun waves.
The islet of Binicondrell gives a different touch to the bird's eye view of this coast. It's not as isolated from the world as the beaches we've seen before,but you won't tell me it's not pretty!
9 – La Vall (north)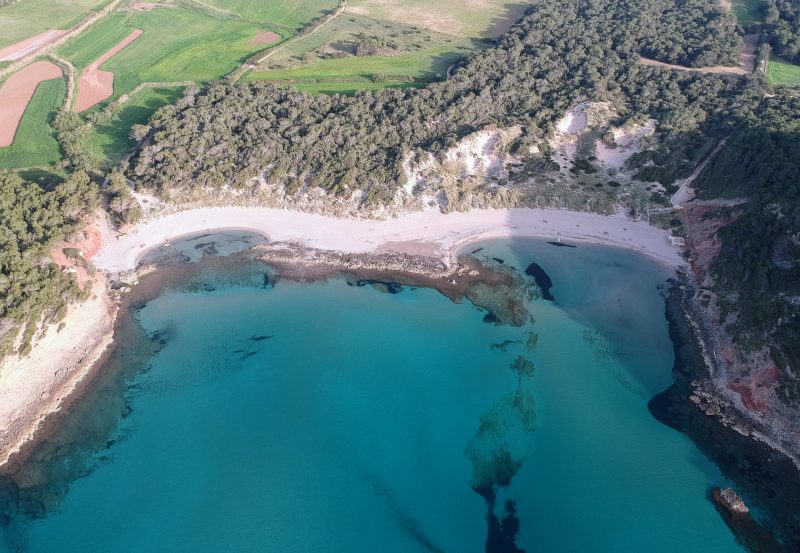 The La Vall beaches (Algaiarens) were also spotlighted in the very popular Estrella Damm's 2010 beer advertisement (in Spain). They have 2 parking areas very close so they are also filled with tourists in summer. You can even set up a Volley net if you're one of the first to arrive,because the sandy area is very large. Children also play football games with the lifeguard. A beach suitable for all audiences.
This beach is close to Ciutadella and there is even a bus that drops you off in the parking lot. It is a very good option if you can only get around by public transport.
10 – Son Saura (South)
Son Saura is the largest beach in Ciutadella. Meters and meters of sand combined with posidonia that offer infinite possibilities. If you're wondering why they don't remove the"algae"from the shore, it's to protect the ecosystem; marine plants prevent wind and storms from taking away sand.
If you don't feel like walking to Es Talaier, Son Saura is an easy bet! This beach is a good choice for families with children.
Boat Trips on the Best Beaches of Menorca
If you visit Menorca and you like the beaches it is worth doing some boat trip to enjoy the beaches from another point of view and with more tranquility.
Here's the detail of some boat trips you can do:
Boat trip through the Calas of the South of Menorca from Ciutadella (49€ – 7 hours – Up to 240 people): One of the most affordable excursions in Menorca (and the top seller the last 2 years). You sail for several hours and make 2 stops in coves of Menorca to enjoy some sun in the sand. Includes food and drink. It departs from Ciutadella. Free cancellation up to 48 hours before.
Boat trip through the South Calas from Cala Galdana (60€ – 3.5 hours – Maximum 12 people): This tour is somewhat more expensive but much more exclusive, since on the boat there are only 12 people and you can enjoy more space and relaxation. You sail for a few hours and make 2 30-minute stops on 2 different beaches. Includes drinks and an aperitif and guide that speaks Spanish and English. Departs from Cala Galdana. Free cancellation up to 48h before.
5 Spectacular and Unknown Beaches Out of the Top
In Menorca there are more than 100 beaches, so making a top 10 is difficult and there are always some beaches worth visiting. Here are 5 other not-so-popular beaches that are also worth being in a ranking like this.
Talis is a small beach that goes unnoticed, as it is between St. Thomas and Son Bou and you have to walk at least 15 minutes to reach it. Even in summer it is possible to relax a little with plenty of space.
Caleta de s'Elisabet is a beach frequented by people who know Menorca well and who prefer to be calm than to have services and large areas of sand. As it is close to Pregondó and Pregonda,most people head to those beaches and leave this small cove for those who prefer a quiet corner.
Arenal d'en MoroBeach is a spectacular beach located on the Illa d'en Colom, about 300 meters from the island of Menorca.
You can only reach by sea and that makes it inaccessible to most people. You can get there by Kayak.
Cabra Salada is a tiny beach in the bay of Fornells that can only be accessed by sea. It is a regular stop for people who rent a kayak in Fornells.
Cala Viola de Ponent is a set of 3 coves a few meters from the Cavalleria Lighthouse. There is very little space for vehicles and sometimes there are motorhomes in the surrounding area.
Why isn't Macarella on the list?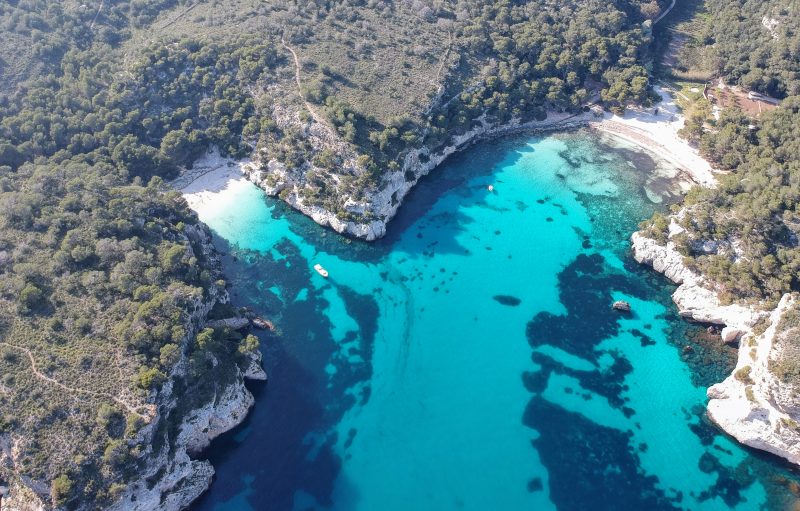 Cala Macarella and Cala Macarelleta are without a doubt the 2 most popular beaches in Menorca. The reason I don't include them in the top 10 is as follows:
If you are going to visit them between June and September,chances are they are so crowded that they lose some of their charm.
If you are going to visit them in May or October,go ahead, it is worth it!
Download your PDF Guide with the 10 Best Beaches (in Spanish)
Map of the 10 Beaches
Map with More than 100 Beaches of Menorca
Bonus 1: Browse the best beaches of Menorca in Llaut
If you want to enjoy the sea and see several unspoilt beaches of the south coast of Menorca I recommend you to enkoy an excursion with Menorquina Charter. They have 3 types of excursions:
3.5h shared trip
3.5h exclusive trip (all the boat for you)
Full-day exclusive trip (the whole boat and all the day!)
Bonus 2: Rent Your Boat for 4 People Without Title and Visit Various Coves on a Day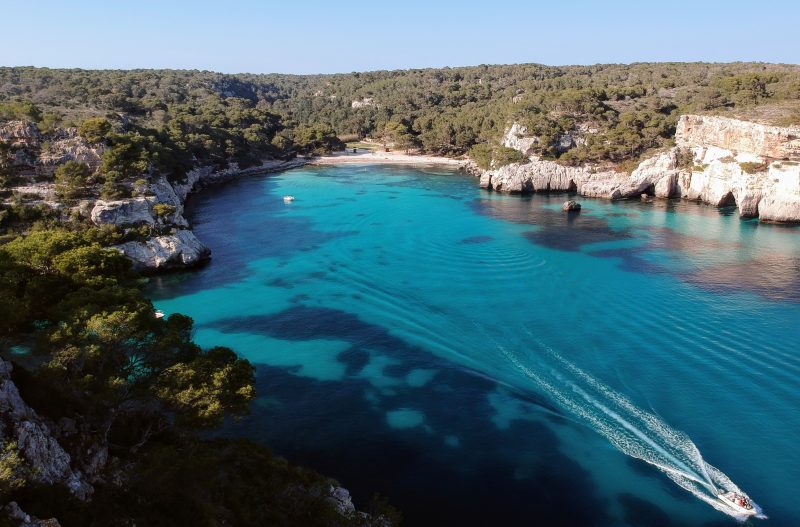 If you want to bathe and snorkel in several of the best coves of the south, you can visit 2 or 3 of these coves in a single day renting your own boat between 4 people.
Properties in Menorca