Menorca in 7 days – What to See and Do in Menorca
Última actualización: 25/03/2020
If you're going to be in Menorca for 7 days (Tips for preparing your trip ahead) this is the guide to the best activities, beaches and restaurants I recommend to visit. The guide is planned by days, considering the proximity between each activity or place, but you can also exchange the activities between days without any problem, ¡these are your holidays!
The guide is designed for people staying in Ciutadella (hotels in Ciutadella) and have their own vehicle, especially since it is quite necessary to get to some of the beaches that I suggest.
Despite this, if you are staying in Maó (hotels in Maó)or anywhere else do not worry, Menorca has 45km from end to end approximately, so if you have a car any route can be done in 1 hour or less.
If you don't like to move around a lot during the holidays, you'd better look for another guide because this one is to deeply know Menorca the non-lazy!
The Best Beaches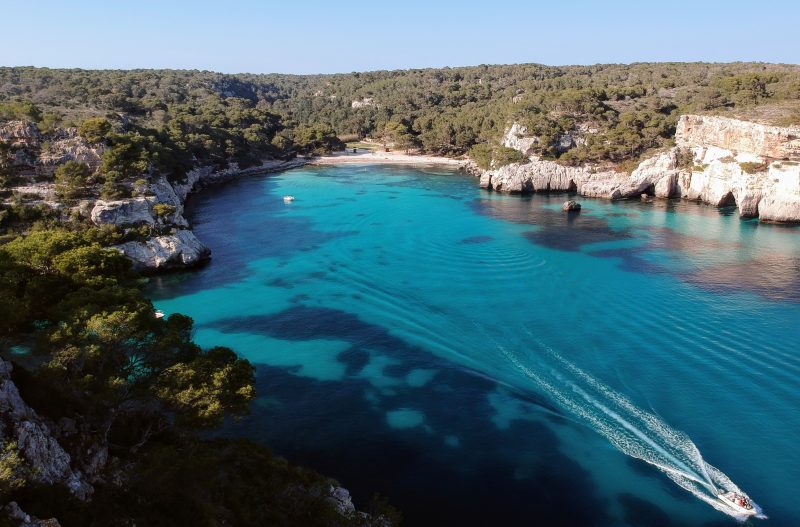 In 7 days you can see up to 6 beaches or coves without getting tired, it's about combining a bit the type of beaches. I've selected two of the best unspoiled coves in the North and two of the best unspoiled beaches in the south. You also have the famous platforms of Cala en Brut and the possibility to pass through some secluded cove by kayak.
Cavalleria: unspoilt beach in the north, ideal for relaxation but without walking much. with free parking.
Pregonda:Appears as the front cover in 2 Mike Oldfield CDs, need to know anything else? You'll have to walk for a while, but the beach is worth it.
Escorxada or Binigaus: Binigaus is a jewel of the south, and Escorxada is even more, for those who believe that walking 1 hour or more is worth it.
Cala en Turqueta: the "top of mind" beach in the south, with free parking and a walk of about 15 minutes to the beach.
Cala en Brut: the best known by the cliff jumpers in Menorca. Ideal for young people
Cabra Salada: tiny and hidden in the Fornells Bay, a quick kayak stop is not bad at all.
You can go in the Taximar to the best unspoiled beaches on the South Coast and save yourself 1h walks. Only with prior reservation in summer as places are very limited, you can book now and choose the day of your Taximar trip later.
Sports Activities – Bicycle/Hiking
If you don't want to do the typical static beach tourism you can combine it with sports activities of all kinds. Kayaking, paragliding, jet skis, stand-up paddle surf… It is best to take a pack as a couple and enjoy 1 or 2 days.
The 10 Best Outdoor Activities:whether you go alone, as a couple or as a family, you should probably try one of these. Snorkeling with SeaScooter is cheap and for all audiences.
The 5 Best Couple Activities: If you go as a couple and want to enjoy a different day… or if you want to give some present to your partner. Try the Jeep Safari if you want to see many areas of Menorca in a single day.
Cultural Activities
Because it's not all about sun and beaches in Menorca, you can combine the hours in the sun with some cultural visits.
Visit Ciutadella: The most beautiful city in Menorca without a doubt. If you like history and culture you can book a guided tour and they will show you nice little corners with a lot of history behind.
Castell de Santa Agueda: One of the highest points of the island. A good visit to disconnect from both sun and beach and see Menorca from a different perspective.
Naveta des Tudons: Possibly the most visited monument in Menorca. It's the oldest building in Europe!
Cova des Coloms: The "cathedral" is called, and no wonder why with 300 meters long and 25 meters high. A spectacular cave in the middle of nowhere!
Book an Historical Ciutadella Tour
Where Can I See Sunsets?
Where do you see the best sunsets in Menorca? Well, in the lighthouses mainly! And it is no coincidence as they are located in spectacular places with cliffs that will scare you a bit. A visit to Menorca without going through at least one lighthouse is not a complete visit!
Punta Nati: The "official" lighthouse of the sunsets in Ciutadella. Really, you have to visit this one.
Cavalleria: If you pass through the north and do not visit it… You're missing a good one. The wildest in Menorca after Favaritx.
From a sailing boat : you can see the sunset from a sailboat, it is very romantic (no children under 2 years old allowed).
What to Buy and Where?
Almost everyone likes to treat himself during the holidays, especially in terms of clothing and accessories and gastronomy. You're in luck if that's your case because Menorca offers you a very high variety and quality.
There are two places in Ciutadella where you can find everything and more: Ses Voltes street and the Mercat des Peix (Fresh Fish Market).
Avarcas de Menorca: the flagship shoe of the island. At first they may seem uncomfortable but after some usage they fit in like gloves.
Cheeses: Did you know that there is a cheese with a DO (Qualified Origin Denomination) in Menorca? Try it, you'll like it.
Wines: Do they also produce wines in Menorca? Well, yes, this island also has wineries like Binifadet's,and if Ferran Adria chose it for the Bulli Restaurant it would be for something.
Sausages: Sobrasada sandwiches with honey… Cuixot with cheese… Delicious and greasy!
Ensaimadas and sweets: Chocolate ensaimada is my favorite, but you can find many varieties in the pastry shops!
If you feel like trying Cheeses and Wines of Menorca you can go to the tasting of l'Hort de Sant Patrici from only 8€/person.
Party at Night
A couple of night party days almost always help improving your holidays.
If you want to go out for drinks or want to go dancing, Menorca has what you are looking for. Bars and clubs in Ciutadella and Maó, and the world famous Cova den Xoroi in Cala en Porter.
Party in Cova den Xoroi: A disco in a cave, with sea views even from the bathrooms? Yes!
Fiesta in Ciutadella: The capital of the nightlife in Menorca. Dozens of bars and clubs with free admission (except for some Saturdays in August, when the whole island goes to Ciutadella at night)
Where to Eat? Restaurants and Chiringuitos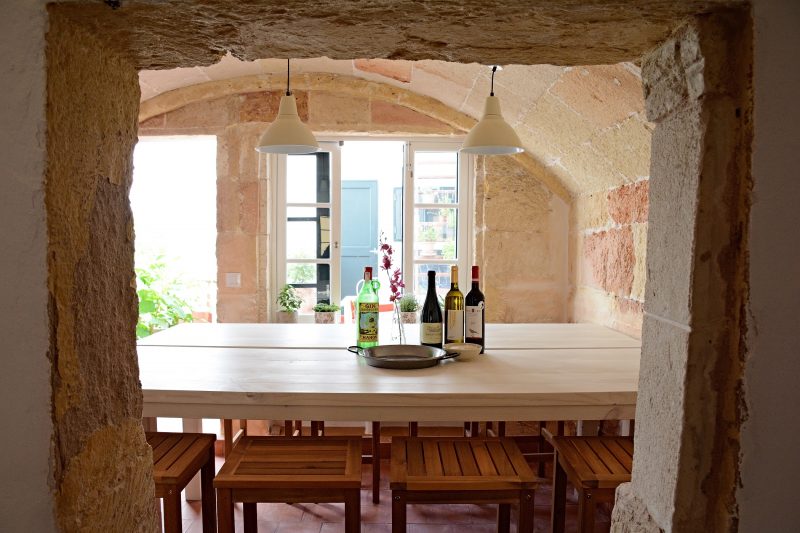 There are countless restaurants in Menorca (Ciutadella, Chiringuitos, with children, Local Spots). In all the towns and developments you can find a varied gastronomic offer.
I have taken the liberty of recommending you some well-known restaurants. If you're not convinced, you can always try any of the restaurants in Ciutadella.
Tasting of Menorcan Cheeses and Wines: An affordable and fun gastronomy activity in a rural setting of Menorca
Smoix: One of my favorites. Don't forget to order lobster ravioli.
Cas Consol: Privileged place in the port of Ciutadella. Be careful whith the ordering or the bill will be pretty high!
Cuk-Cuk Gastronomic Experiences: If you are looking for a different experience in addition to an excellent Menorcan meal or dinner,this is your place. Only for 12 people,always book with time!
Es Caliu: Get ready to eat superb grilled meat
Excursions: Kayaking, Snorkeling and Cycling
So much beach and so many shopping and you haven't done any sport yet! Don't worry because there are also alternatives.
Ciutadella to Cala en Blanes/Cala en Brut: a super simple excursion for all audiences, overlooking the sea and the possibility of taking a dip in Cala en Brut. If you don't try, it's because you don't want to!
Cycling Routes: There are 6 very well prepared cycle tourism routes.
Kayaking in Fornells: This is already something more serious but it's not that tough. You can go kayaking for a couple of hours through Fornells Bay. I've seen 10-year-olds doing it, so don't worry, you won't be very tired.
Kayaking to la illa d'en Colom: a very simple excursion for all audiences and with spectacular landscapes.
Day 1 – Cavalleria and Party in Cova den Xoroi
Visit to Cavalleria beach and back you can stop to buy some ensaimadas in the famous Pastry Cas Sucrer in Es Mercadal, but don't eat them yet!
Day 2 – Pregonda and Dinner in Ciutadella
Another powerful beach day. Nothing less than an excursion to Cala Pregonda.
If you return soon you can stroll around Ses Voltes in Ciutadella, visit the cathedral and do a couple of shopping.
And what about a dinner in Cas Consol or a gastronomic experience in Cuk-Cuk to finish the day?
And if you also go for drinks in the harbor, you've got it all tied up!
If you don't feel like thinking too much, you can opt for the luxury dinner with menu and closed price.
Day 3 – Escorxada y Tapas by Ciutadella
You have already seen two northern beaches… it's time to see the white sand and the crystal clear waters of the south in Cala Escorxada.
Both the one way and the return you can pass through the immense Cova des Coloms.
Back in Ciutadella you can have some tapas in Cas Marino next to the Mercat des Peix.
Day 4 – Naveta des Tudons and Bike/Foot Route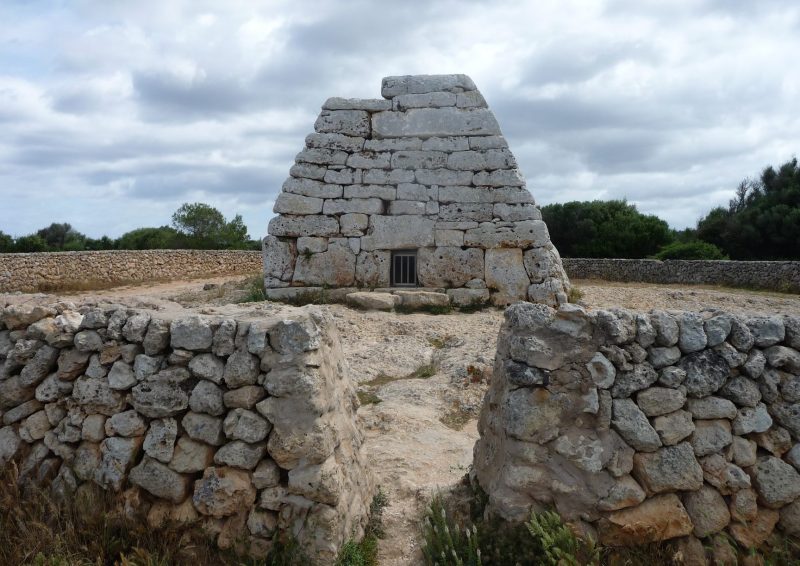 After so much beach, a cultural visit to the Naveta des Tudons, the oldest building in Europe!
Day 5 – Cala en Turqueta and Luxury Dinner
Haven't you already been to Cala en Turqueta? what are you waiting for then!
Day 6 – Kayaking or Horse Trip and Sunset
There are only 2 days left and from so much eating the excesses begin to be noticed.
Day 7 – Choose What You Prefer
If you are not tired I recommend a visit to Cala Presili. But don't be overwhelmed and choose what you want from the guide!
Bonus: Don't forget to Book a Boat Trip
I recommend everyone not to leave Menorca without having tried a boat tour.
There are excursions for all budgets, and the experience of sailing the coast is worth it.
Kayaking With Snorkeling Tour (40€): An excursion that combines sport and nature
Shared Boat Tour on the Virgin Beaches (49€): The most popular excursion in Menorca.
1 full day Sailing Tour (110€): To me, the best excursion for friends or families, if you can afford it.
* You can cancel your booking for free of these 3 activities up to 48h before departure
Bonus 2: Which Beaches Are More Empty in Summer?
A lot of people write to me saying that in July and August the beaches of Menorca are much more full than they expected.
Almost all the popular beaches in the south of Menorca are full first thing in the morning during the summer months.
Map of Accommodations of Menorca (with Prices)