Kayaking tour to Illa d'en Colom Island
Última actualización: 13/12/2019
The kayak tour to the illa d'en Colom island is a short, simple and fun route suitable for all audiences of any age. This route is ideal from May to October and as long as it does not blow much North wind.
During the months of July and August the area between Es Grau and Illa d'en Colom has quite a lot of motor boat and sailing traffic, so it is advisable to go with a little more care to avoid any scare in the sea.
The Route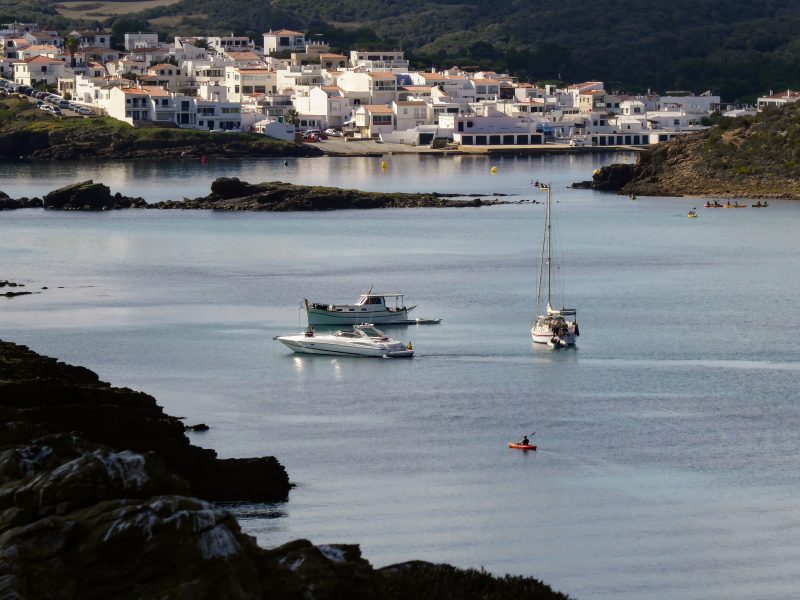 The kayak ingeby from Es Grau is incredibly simple. From the starting point on the beach of Es Grau it is possible to see the Illa d'en Colom just 1.5km away, making it almost impossible to get lost or disoriented.
From Es Grau, you have to paddle with the kayak for about 20 minutes until you reach the first beach of Illa d'en Colom: Cala Tamarells (do not confuse Cala Tamarells -in the Illa d'en Colom- with Cala Tamarells Nord, and Cala Tamarells Sud, which are on the island of Menorca)
From Cala Tamarells there is about 5 minutes by Kayak to the next beach of Illa d'en Colom: Arenal d'en Moro
Once you have reached Arenal d'en Moro you have 2 options before returning to Es Grau:
You can stay on the beach sunbathing and snorkeling for a while. You can also take an excursion to the interior of the island, although the roads are not maintained.
If you want to do a little more kayaking and have a minimum of 2 hours of light still, you can choose to return to the coast of Menorca and tour the beaches of Tamarells Nord and Tamarells Sud,including a visit to the base of the Tower of Rambla.
Tour Facts
Departure point:Es Grau
Kayaking distance: 8.7 km (round trip). If you only go to illa d'en Colom, it is 3km in total.
Total time: 3h (round trip). If you only go to the Illa d'en Colom, it's 1h in total.
Points of Interest: Unspoilt beaches of Arenal den Moro and Tamarells. Rambla Tower
How to Get to the Departure Point (Es Grau)
To get to the beach of Es Grau you can take bus 23 from the bus station of Ma.
To get there by car, you must first reach to Maò. From Mao you have to take the Me-7 road and deviate towards the Me-5 towards Es Grau. It's very well signposted from Maa, so it's hard to get lost. Going from Maò a Es Grau by car are 10km and are done in about 15 minutes.
You can also go by Bike to the beach,especially if you want to make some stretch of the Camí de Cavalls from Es Grau.
Map and Points of Interest
Tour Photos