Menorca in Couple in 5 Days
Última actualización: 18/02/2020
If you are going to be in Menorca with your partner for 5 days,this is the guide of the best activities, beaches and restaurants that you can enjoy during your getaway as a couple. Shall we start? (Don't forget to check out these tips to prepare your trip)
The guide has been made for days,but plans can be exchanged and combined as you prefer.
It does not matter if you're staying closer to Ciutadella or Maô, as long as you have a rental car or a motorbike to get around. By the way if you still don't have accommodation I recommend these rural hotels
If you do not want to move during your holidays you should better look for another guide of Menorca in 5 days,because this is not suitable for sloths! We start!
Checklist: Before You Begin
Book your Accommodation Soon: in Menorca the hotels and good apartments sell out very quickly. I recommend a Rural Hotel if you can afford it,they are spectacular.
Rent a Car or Motorbike: they are very good options to move around the island with more flexibility. With a car or a motorbike, you can reach any part of Menorca in an hour or less.
Know the importance of the winds of Menorca: If you know where the wind blows, you can choose the beaches with less waves and jellyfish.
Check out these tips if you are preparing your trip to Menorca.
Day 1 – Kayaking Tour from Es Grau to Illa d'en Colom, Walk through the Albufera and Dinner in Cap Roig (North – Maò) [150€/couple]
The Kayak tour from Es Grau is one of my favorites. Although in summer there is a lot of maritime traffic in the area, the departure from Es Grau allows you to visit some northern calas and visit the illa d'en Colom.
After spending the day by Kayak, if you have any strength left, you can stroll through the Albufera de Es Grau, a 5100 Hectares natural park with great diversity of flora and fauna.
And to finish off the day, a nice dinner at the Cap Roig restaurant overlooking the bay of Sa Mesquida.
Double Kayak Price:70€/couple
Dinner price in Cap Roig: 80€/couple approx.
Day 2 – Cala Galdana, Macarella/Macarelleta and Dinner in Smoix (South – Cituadella) [80€/couple]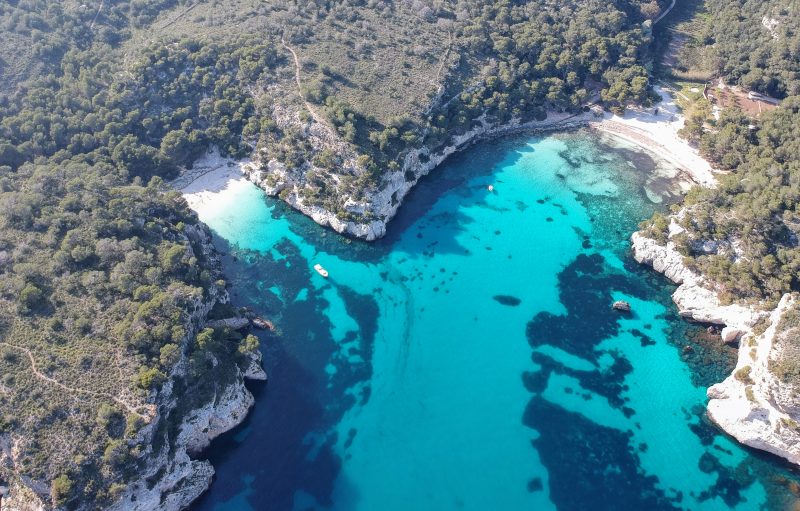 Although Cala Macarella and Cala Macarelleta are usually crowded in summer, hardly anyone wants to miss the visit to these two southern pearls. Since 2018 access by car and moto has been limited. Therefore these beaches can only be reached on foot, by bike or boat.
You park in Cala Galdana
You walk 20 minutes from Galdana to Macarella
You walk back to Galdana
Don't forget to visit the Cala Galdana Viewpoint
For dinner you can go to Smoix in Ciutadella and try the ravioli of Cigala. Do not forget to make a reservation!
Dinner price for 2 in Smoix: 80€/couple approx.
Day 3 – Boat Trip (North or South) [50 – 220€/couple]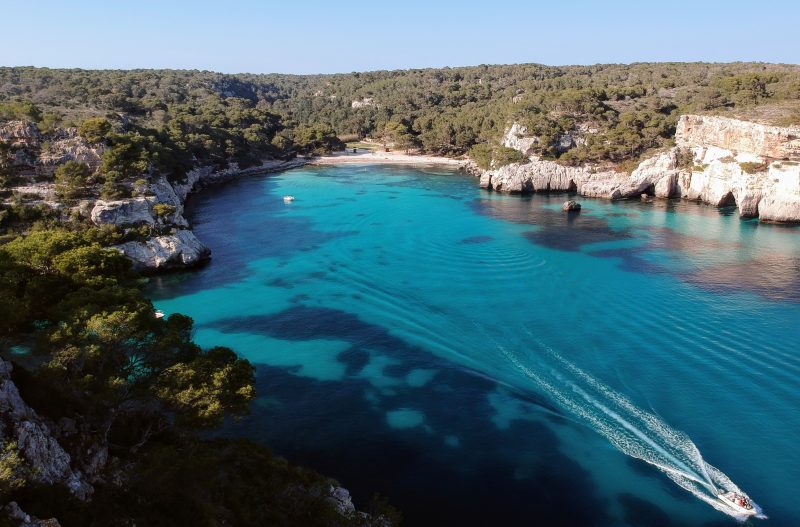 I always recommend spending a day at sea to experience different sensations in Menorca. You can visit caves,go snorkeling in less crowded areas or just enjoy the sea breeze or sunset while sailing.
Depending on your budget you can take the Taximar, a shared boat route or choose the most exclusive options.
Day 4 – Camí de Cavalls Tour – and Sunset (North or South) [Free!]
Luckily there is a path that surrounds Menorca along the coast: the Camí de Cavalls. You can choose to do any of the sections, there are more than 185 Km to travel.
If you do not know which sections to choose, I recommend these two:
After the tour, if you feel like it, you can try to see the sunset in one of the most beautiful places in Menorca.
Day 5 – Cala Pregonda or Cala Pilar and La Mola o Líthica (North – Maò/Ciutadella) [10 – 22€/couple]
Cala Pregonda (30min) and Cala Pilar (40min) are 2 spectacular beaches in the North of Menorca that can only be reached on foot or by boat.
If you are not lazy to walk I strongly recommend you go to one of these two beaches (provided it blows south wind).
In the afternoon you can try a cutural visit, whether you are close to Maò or Ciutadella:
Bonus: 5 More Plans in couple
If you don't like the plans you've seen, or prefer considering other options, here there are 5 more plans to enjoy with your partner.
If you want even more ideas for your 5 days in Menorca:
And if you want a personalized plan for you and your partner,contact me.
The Plans Photos