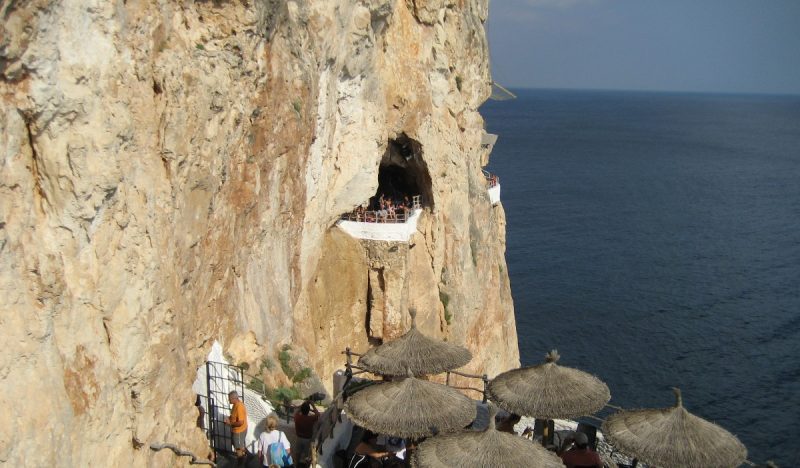 The Cova d'en Xoroi (Xoroi's Cave) is a natural cave placed in Cala en Porter, the south coast of Menorca. The cave can be visited during the day as well as in the evening. The cave recieves the name of Xoroi due to a turkish pirate who lived sheltered in the cave during years and who survived stealing. The legend tells that when they discovered Xoroi in the cave, he jumped to the sea and nobody ever saw him again.
How to Get There
You can arrive by car and park without problems in the parking or in the surrounding streets of the local (see map). If you go from Ciutadella, you just have to take the road towards Maó and take the deviation to Cala en Porter or to the Airport. It's well indicated as it's a very touristic place.
Relax During the Day
During the day you can enjoy the beauty of this incredible place and the views that offers its priviledged situation at the top of the cliffs, right above the sea. Entrance is around 6€ and includes a drink. The inside of the cave has many spaces connected by corridors. The Cova d'en Xoroi is a perfect place to watch the sunset, specially from its wide terrace.
Party at Night
During the night, the cave turns into one of the most popular discos of Menorca. With its different spaces perfectly enabled and decorated, the nights in the cave are a classic of Menorca. There used to be foam parties that took place once a week in summer, but these parties are no longer celebrated, but this is not surprising as its priviledged position next to the sea provoked that when the wind blowed, the cold was unbearable.
Currently, they celebrate other kind of parties such as white party, hippie party, etc. depending on the day. The entry costs around 20€.
The visit to Cova d'en Xoroi is almost imperative both during day and night. If you have time, I recommend you to go and take with you a camera to take some pictures. If you want to watch the sunset, you can stay in the terrace and enjoy the view of the sea from the cliff. If you want to party and you don't like the itching sensation in your eyes neither the cold feeling, the best thing you can do is to avoid the foam parties.
There are people who think that the Cova d'en Xoroi has become a too touristic place and very expansive for what it offers. I personally haven't been there for some years, but if you go to Menorca and you hae the chance, I think that it's worth it.
Information and Contact
Map and Points of Interest
Photos