Top 10 Outdoor Activities – 2020
Última actualización: 14/01/2020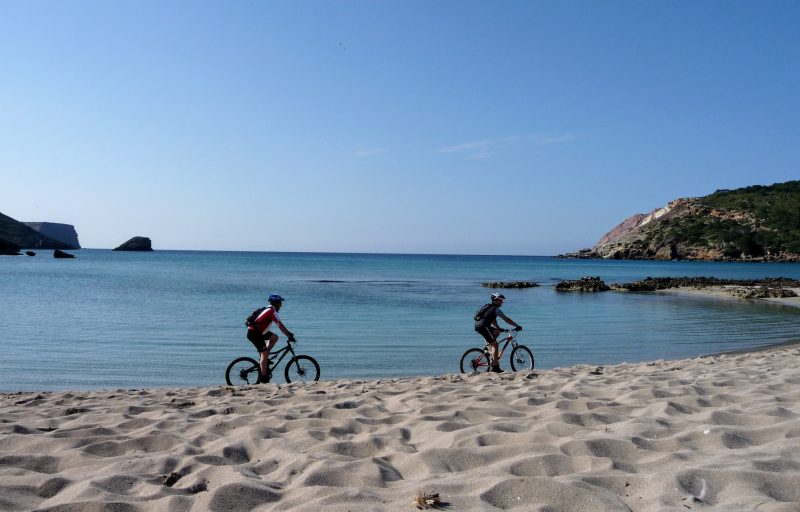 If you go to Menorca on holiday and want to do some outdoor activity do not miss what I consider the Top 10. In addition to having many unspoilt beaches you have dozens of outdoor plans.
There are activities of all types:
For couples
For athletes
For lovers of landscape ,flora and fauna
For the more adventurous
For those on a low-cost budget.
Just choose the one you like the most and plan your best possible vacation.
Below each activity you have a call to action button to book today (or access the company's website) if you don't want to miss it during your vacation. Have a good time!
Here's my personal top 10 list. It has been prepared for people of all ages with a passion for outdoor activities in contact with nature.
1. Camí de Cavalls Tour – (35€ – 1 person)
A Tour of the Camí de Cavalls is an activity that can be done throughout the year and it is for all ages.
Camí de Cavalls is a 180 km path that surrounds the island, and there are stages of all distances and for all public,from the harshness of the north to the forested landscapes of the south.
Some excursions may end up on the beach.
I like it above all because of the large number of routes available (20) and because you can start it from any point of the coast of Menorca.
Not to mention that you can finish the tour by eating in one of the best beach bars in Menorca…
2. Diving Baptism in the Marine Reserve – (55€ 1 person)
A Baptism diving session is perfect for sea lovers and for those who want to enjoy a virgin seabed thanks to the protection offered by the fishing ban.
You'll be 30 minutes underwater! No title is needed.
Crystal clear waters and high visibility.
The water is not cold in summer.
I like it because under water you feel as there was no gravity,and because it is not easy to find such protected seabeds in the Mediterranean.
3. Buggy Tour of the Coast of Menorca – (80€ – 1 person)
The buggy tour takes you from Son Parc to the Port of Sanitja through quite cool inland roads.
You pass through the interior part of Menorca and by the coast
Maximum of 5 buggies per journey,so you can enjoy it without having many people.
There is a picnic included in the price. You won't get as tired as if you were on foot.
I like it because it is a very different activity from the most common ones.
4. Kayaking tour of the Caves of Calan Porter – (35€ – 1 person)
Kayak tours in Menorca allow you to see caves and reach hidden corners where you could only arrive by boat or walking long distances.
Sail along the coast and enjoy unspoilt beaches that are difficult to reach.
Enjoy caves only accessible by sea.
Do sport alone or as a couple!
And if you get tired, you can take a dip!
I like it because it is a fun sport, which can be combined with snorkeling and allows you to see hidden places in Menorca.
5. Water Jet Ski, as a couple – (100€ – 2 people)
Jet skis are not new, but there's so much fun! If you have not tried it I will certainly recommend it. It is an ideal activity for couples and young people.
Enjoy the feeling of driving very close to the water.
and of course, you can take a dip if you get tired.
You can even go around Menorca in 8 hours!
I like it because it combines speed and nature.
6. Snorkel in the South of Menorca with Seascooter, Photos and Videos – (45€ – 1 person)
If you don't dare with diving, try snorkeling! Simple, risk-free and for all audiences, as a group or as a couple.
Enjoy snorkeling in the South Coast.
If you like to go underwater or practicing apnea, you'll love the Seascooter,it's like a torpedo.
When you're done, you start sunbathing.
I like it because the snorkeling of the Marine fauna is simply spectacular, and more with Seascooter.
At the end you have photos and videos of the experience.
7. Stand Up Paddle – (40€ – 1 person)
The Stand Up Paddle has become trendy in Menorca and along all the Mediterranean coast. It is an activity not very intense but that strengthens many muscles in addition to enhancing the balance.
It combines sport and fun at sea,without getting cold.
You can lie on the table and sunbathe in the middle of the sea.
If you get tired you could continue sitting down. You could also combine it with snorkeling.
I like it because it is a new sport, suitable for all audiences and with many possibilities.
8. Mountain Bike Tour – (19€ – 1 person)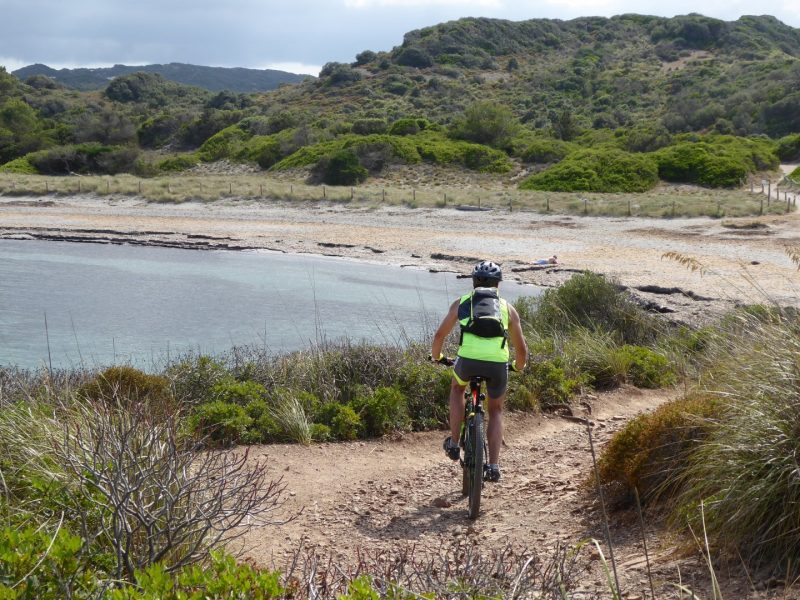 The Mountain Bike tour along the coast is another activity you can't miss if you like cycling. There are routes of all difficulties and some of them a few kilometers long, so there is no excuse.
You cycle along the coast,with incredible landscapes and always close to the sea.
Do you know any stage of the famous Camí de Cavalls?
Once you finish cycling it feels great to take a bath or go to a nice restaurant.
I like it because there are routes of all levels of difficulty and you can travel many sections in a short time.
9. Boat Tour from Ciutadella (49€ – 1 person)
Boat tour is an affordable option for those who want to sail and can't afford to pay for a jet ski or a boat. You can enjoy a day of sailing and visit several beaches in addition to have paella and sangria on board. It is an ideal plan for groups of friends and families.
Enjoy sailing day with visits to beaches
Food and drinks are included in the price.
In the afternoon, during your trip back to the port, you can cool off with a Gin Lemonade
If you are lucky and come back late, the view of the sunset from the sea is awesome.
I like it because it is a cheap option to sail and see beaches, and it is a very good plan with friends.
10. Paragliding (80€ – 1 person)
Fly safely by jumping from Monte Toro, the highest point of Menorca. Enjoy spectacular views from the air.
Enjoy a bird's eye view of Menorca, a Biosphere Reserve.
You go with a pilot, you just have to worry about enjoying the views.
A 30 minutes flight,many worries disappear after such an activity.
I like it because you have to be brave to try it but if you dare to do so it's spectacular.
Bonus 1: Navigate to hidden places on Jet ski (150€ – 2 people)
The jet ski tour allows you to navigate very fast and reach hidden places and areas far from the tourists.
Bonus 2: Flyboard (75€ – 1 person)
You can try the Flyboardand feel like levitating or floating over the water.
The Flyboard is a very funny experience although it requires some technique.
The first 5 minutes you may not be able to get out of the water, but once you catch the trick it is easy and great fun.
Bonus 3: Llatinaboats,rental and tour in llaüt without license.
If what you like is to go to your own way,and discover Menorca from the sea aboard a traditional llaüt,try Llatinaboats.
They operate in Fornells area and rent traditional llaüts, license is not required. They will explain how to manage it (suitable to everyone!) and tell you which are the best coves in the area.
And from there, to adventure! Half-day or full-day excursions. As a family, as a couple or with friends.