Última actualización: 14/12/2019
The beach of Arenal den Moro is located on the Illa den Colom Island,an island very close to the village of Es Grau (and the beach of Es Grau). TheIlla d'en Colom is the largest islet in the entire territory of Menorca,with an area of 58.25 Ha.
illa d'en Colom island has 2 sandy beaches, and the Arenal d'en Moro is smaller but more frequented for having more sandy surface where to put the towel.
This beach is usually the first stop for people who rent a kayak in Es Grau to kayak through the north coast.
How to Get There
1. Kayaking
You have to rent a kayak in Es Grau (Menorca in Kayak) and head towards Illa d'en Colom. The route is just 1500 meters, an easy trip that can be done in about 15 or 25 minutes depending on your pace.
It is suitable for all audiences of all ages. The only thing to keep in mind is that in summer (July and August, there is a lot of maritime traffic in the area). The tour is really easy to follow as at all times you can see the Illa d'en Colom in front of you.
2. Swimming (with buoy)
Although I do not recommend anyone to do it in summer as there are many boats in the area, you can reach the Illa den Colom Swimming:
750 meters from Cala la Solitària.
1500 meters from Es Grau
3. In Shared Boat Trip
In the village of Es Grau, next to the Kayaks rental shop, you can find the flyers of a person who offers to take tourists to the illa den Colom for about 11€.
I don't know if it operates on a regular basis, but you can contact it and ask directly (joanfquiruga @ hotmail.com).
Once There…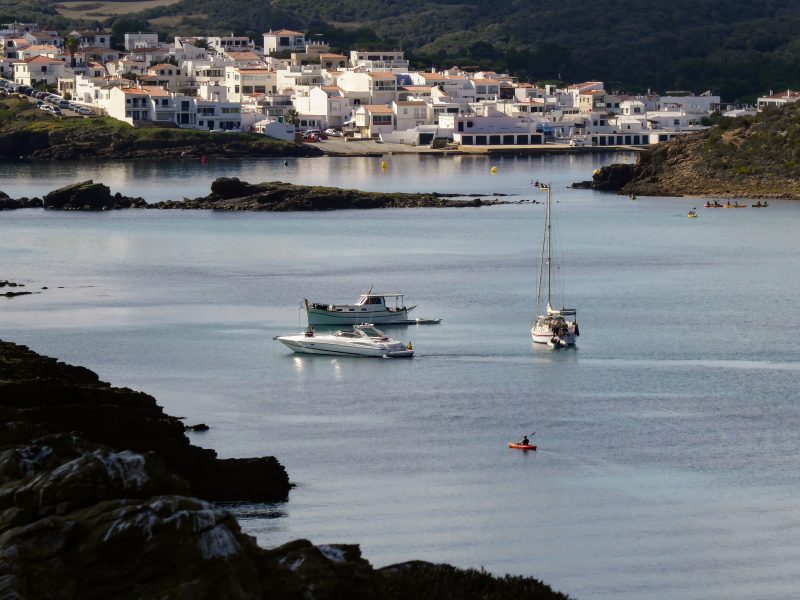 The illa d'en Colom, which by the way is on sale as of October 2017,is an island that preserves a population of lizards that in Menorca has disappeared due to the human presence (the hypothesis is that the Romans introduced competing species with these lizards and made them disappear).
It is the lizard of the species Podarcis lilfordi balearica,very numerous in the Illa d'en Colom and almost all the large islets of Menorca. If you dare to go someway you will see dozens of these lizards sunbathing under the sun.
As you can imagine, the beach has no services of any kind being on an uninhabited island,so you must be self-sufficient if you get here. Bring your food, water and everything you might need!
Photos
Map and Points of Interest