Gastronomic Experiences with Cuk-Cuk
Última actualización: 25/12/2019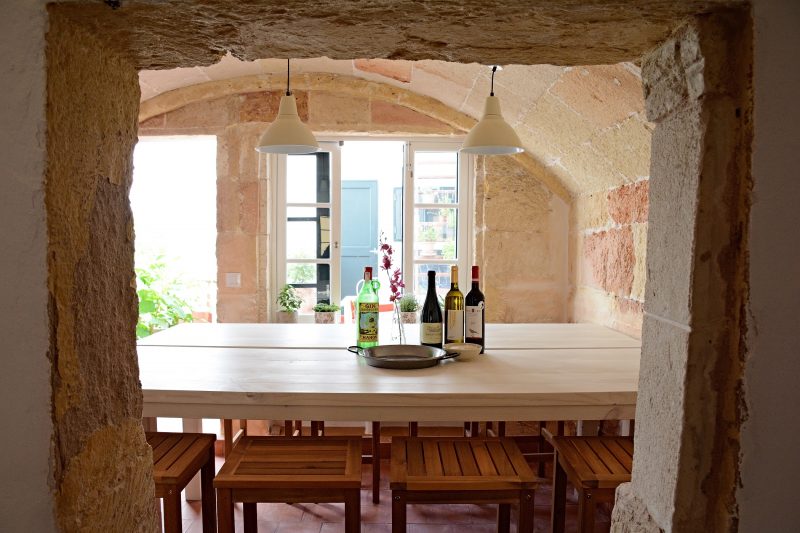 Cuk-Cuk offers different dining experiences to cook and enjoy eating in the old town of Ciutadella, inside the landscaped space of a traditional house.
Elena and Alejandro carry this small and charming gastronomic corner with space for up to 12 diners. In Cuk-Cuk, in addition to learning how to prepare the dish of your choice, you can share your experiences while cooking with other travelers like you who are enjoying Menorca.
If you are looking for a different gastronomic experience in Menorca, you are in luck because you will enjoy the Cuk-Cuk experience.
Cooking and Eating Experience – With Friends, Couple s or Family
The most popular experience offered by Cuk-Cuk is cooking and eating.
Alex and Elena will teach you step by step (and in a relaxed way) how to prepare delicious dishes of Menorcan and Mediterranean cuisine:
Fish and Seafood Stew(most popular)
Rice Soup with red prawns from Menorca
Traditional Paella
Paella Marinera
Fideuá
Stuffed Squid
Black Rice
The price of the Cooking and Eating activity varies from 28 to 36 euros per person depending on the dish selected and includes:
Everything you need to cook it (product and materials)
Dessert and drink to choose
So in addition to having a good time cooking and learning about the gastronomy of the island, you will make a meal or a full dinner in the beautiful Old Town of Ciutadella.
As a couple, with friends or in family, you choose!
How Does the "Cooking and Eating" activity work?
Cuk-Cuk's flagship activity begins with choosing the dish to cook (and eat!). If you're not sure, they'll recommend you based on your preferences.
Once you have clear the dish you want to try, you have to call Cuk-Cuk to specify the day on which the activity will be done.
You choose the dish you want to try and cook
Call Cuk-Cuk to book a specific day
You go to Cuk-Cuk on the agreed day,there you will have all the fresh ingredients and the material
You wash your hands and start cooking step by step following Alex and Elena's instructions and advice!
You participate 100% in the cooking process. There is an induction cooker for every 2 people, so you'll have plenty of room to enjoy the kitchen
While cooking, you can have a glass of Menorquin wine or other drinks of your choice, or sample a selection of Menorcan products (cheeses and cold cuts).
When you've finished cooking, you sit down and eat the dish you've prepared.
At the end there is a characteristic dessert of Menorca for you to enjoy a full meal.
In short, the activity consists of having a good time cooking delicious dishes (1 hour approximately) and then savoring them in the cozy garden of Cuk-Cuk. And by the way, if you tell them that you go from MenorcaDifferente and do a cooking workshop, they give you a glass of Menorquín vermouth.
Other Gastronomic Activities
In addition to the Cooking and Eating experience, there are 2 other popular Cuk-Cuk dining activities:
1. Tasting of Beers and Wines Produced in Menorca
Along with the cooking workshops, or separately, you can make a tasting of 4 wines (12€/person), or also a tasting of 4 beers from Menorca (9€/person).
The Wine Tasting includes 3 glasses of different wines from Menorca,and 1 glass of a non-local wine. It also includes water and bread with olive oil. These are the 4 wines you can try in the tasting.
Young White:Chardonnay, Muscat, Malvasia and Merlot
Pale Pink:Tempranillo
Tinto Crianza: Cavernet Sauv., Merlot, Syrah and Tempranillo (3 months american oak)
Black Vermouth (cold macerated with herbs and spices, and aged in oak barrels)
2. Tasting of Sausages and Cheeses of Menorca
If you prefer food to drink, you can also do tastings of Menorca cheeses (8€/person) or cold cuts from Menorca (9€/person).
Photos
Information and Contact
Website: Cuk-Cuk Menorca
Address:c/ Sant Pere d'Alc'ntara, 13 (Ciutadella de Menorca)
Phone:(+34) 971 380 703
Mobile:(+34) 675 263 368
Offer 2019: If you tell them that you go from MenorcaDiferente and do a cooking workshop, they give you a glass of Menorquín vermouth.