Última actualización: 22/12/2019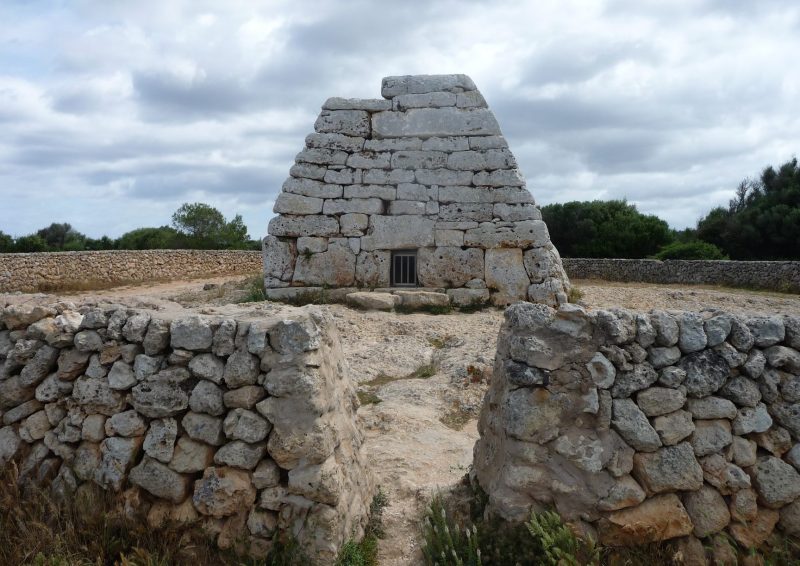 The burial navetas of Menorca are one of the most characteristic elements of the prehistory of the island. The navetas are constructions of stones embedded between them without any cement (cyclopeanconstructions). Menorca's most famous naveta is the Naveta des Tudons.
The Naveta des Tudons is the oldest fully preserved buildingin Europe, and its construction dates around 1000 BC. It is a collective burial monument,inside which were found the bodies of more than 100 individuals in addition to objects of bronze and bone.
The name of the Naveta comes from its resemblance to an inverted vessel (Naveta in spanish means "little ship"). This name was given by Joan Ramis i Ramis in 1818 when he published Celtic Antiquities of the Island of Menorca. Joan Ramis argued (wrongly) that the Naveta was a temple dedicated to Isis, the inventor of navigation and the protective goddess of sailors.
Visits and Price
Anyone with a certain interest in the past of the island should visit this construction, which is in a very good state of conservation.
Access to the interior of the Naveta des Tudons is prohibited for security reasons, but it is still possible to visit the construction and its surroundings.
The price of the visit is only 2 Euros per person,but on Mondays you can visit for free.
How to Get to the Naveta des Tudons
To reach the Naveta des Tudons you only need to head towards Ciutadella by the main road of Menorca. In case of leaving from Ciutadella, you have to go in the direction of Maó. La Naveta is located on the main road between Maó and Menorca (The Me-1 road) and is quite well signposted.
To get to the Naveta you will have to walk about 5 minutes from where the car is left. If it gets sunny the way will get a little harder but it is suitable for all audiences, from children to older people.
Map