Beaches of Algaiarens (La Vall)
Última actualización: 21/09/2023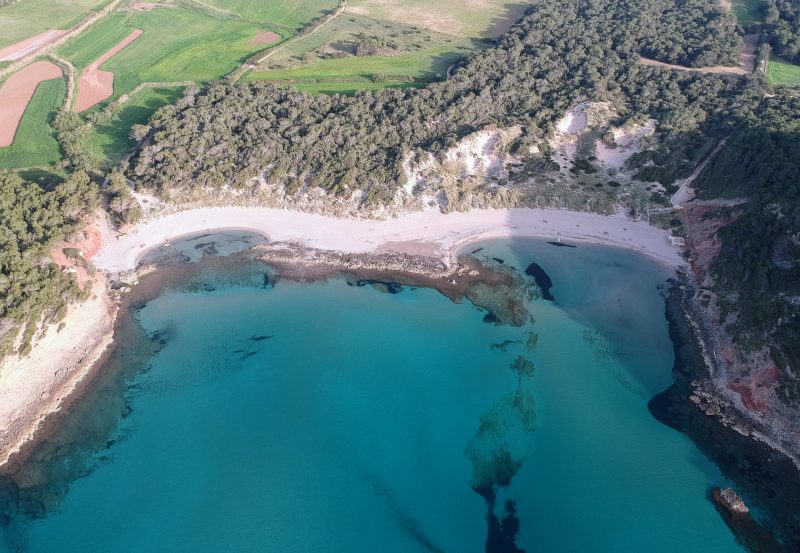 The virgin beaches of Algaiarens, also known as La Vall or La Vall d'Algaiarens, are the northern coast beaches closest to Ciutadella.
It can be easily reached by car and also by bike, and has two parking lots located about 300 and 500 meters from the beach access respectively.
Access to the beach by car was paid many years ago, but not anymore. One of the peculiarities of this beach is that it appears in the famous Estrella Damm ad of 2010.
Beach Info
Orientation: North-West
Type:Virgin Beach
Services: Lifeguard
Summeroccupancy: 57% (Es Bot) and

97%

(Es Tancats) of supported load.
Beach area*: 4,622 m2 La Vall, 5996 m2 Es Bot (* Estimate. Changes every year)
Access on foot: 300 meters (5 minutes)
Nearest parking: 300 meters (5 minutes) – Parking 1 de La Vall – See vacancies now (beta)
Previous Beach: Pilar Cove
Next beach: Ses Fontanelles
Is it in the Camí de Cavalls? :No (The CdC passes through the car park, not the beach)
How to get to La Vall – Algaiarens
By Car, Motorcycle or Bike
To get there from Ciutadella, take the Cala Morell road and turn off before reaching the crossroads towards the urbanization. It is difficult to get lost as it is extremely well signposted, like almost everything in Menorca.
If you come from Maó you have to go to Ciutadella and when you are about to arrive you will see the signs to Cala Morell, just follow them.
To get to the parking lot you have to go through a narrow road surrounded by pine trees, so it is advisable to go carefully and at low speed, especially for the cyclists you may encounter.
At some point along the way, you will see on your right the finca of
Son Angel
a place where you can do horseback
horseback riding excursions
for just over 20 Euros. On your left, if you look closely, at some point along the route you will see a metal fence closed with a padlock. It is the private access to Ses Fontanelles, a fishermen's refuge that some fishermen use to raise and lower their boats. There are also kayak outings from this refuge.
By Bus
You can also get there by public transport using bus line 62, which will drop you off 1 km from the beach, in the same parking lot where the cars are parked.
There are two parking lots where you can park depending on how crowded the beach is.
From the first parking lot you will have to walk 5 minutes.
From the second parking lot you will have to walk about 10 minutes.
Once There…
The sand of the beaches of La Vall is white and fine, something quite rare with regard to the beaches of the north of Menorca, which usually have a coarser and darker sand.
La Vall is divided into two zones:
The one closest to the parking lot is known as Playa des Tancats.
The farthest is Playa des Bot
If you want to get to es Bot you will have to take a short 10-minute walk.
Like many of the beaches of Menorca, the sunset in the cove is very nice even if it is not directly over the sea, and the beach is empty of people at sunset. If you have also gone on a day when the wind is blowing from the south, the sea will be quite calm and it will look like a swimming pool.
Photos
Video
Map and Points of Interest
Hotels near La Vall
La Vall is one of those unspoiled beaches that fortunately is close to some population centers, such as Cala Morell. Here are two suggestions of rural hotels very close to La Vall.
Hotel Rural Sant Ignasi: possibly the best known rural hotel in Ciutadella. An idyllic setting 15 minutes drive from the beach.
Agroturisme Biniatram: has rooms and apartments less than 1km from the beach of Cala Morell and 15 minutes drive from La Vall. This family-run hotel will not leave you indifferent.