Scuba Diving Baptism in Menorca
Última actualización: 23/02/2020
Menorca is an island that thanks to the presence of posidonia has a spectacular visibility inside the water. For this reason Menorca is a very good place to do a diving baptism in a calm and quiet environment.
Whether you have previous experience at sea or are a total novice,diving baptism is an activity you'll probably like. Unless you're claustrophobic or you're overwhelmed with being underwater, diving is something I recommend trying to almost everyone.
I personally took the PADI diving course in Menorca and loved it, especially because the clarity of the water is very high and gives you a lot of visibility and tranquility.
What is a Scuba Diving Baptism?
A Scuba Diving Baptism is an activity in which you can test the diving experience in a controlled and quite safe environment accompanied by a diving instructor.
There are two types of diving baptisms:
Diving Baptism in a Pool: You put on all the diving equipment (suit, jacket, weights, tank, fins, glasses, etc.) and try the diving experience in a pool with an instructor. It is common in some hotels and usually focuses on people who have very little experience in the sea and want to try in a very well controlled environment.
Baptism of Scuba Diving in Open Water: You put on all the diving equipment and test the diving experience, with an instructor. It usually starts from the beach although sometimes it can be started from a boat.
How long does a Scuba Diving Baptism last?
There is no minimum of time, but normally a scuba diving baptism lasts between 10 and 40 minutes of underwater time.
The total time is much longer,because before entering the water there are concepts of theory and practice that must be explained.
If you are going to do a diving baptism, calculate that you will dedicate at least 1 to 3 hours.
Which Material Do I Need to Do a Scuba Diving Baptism?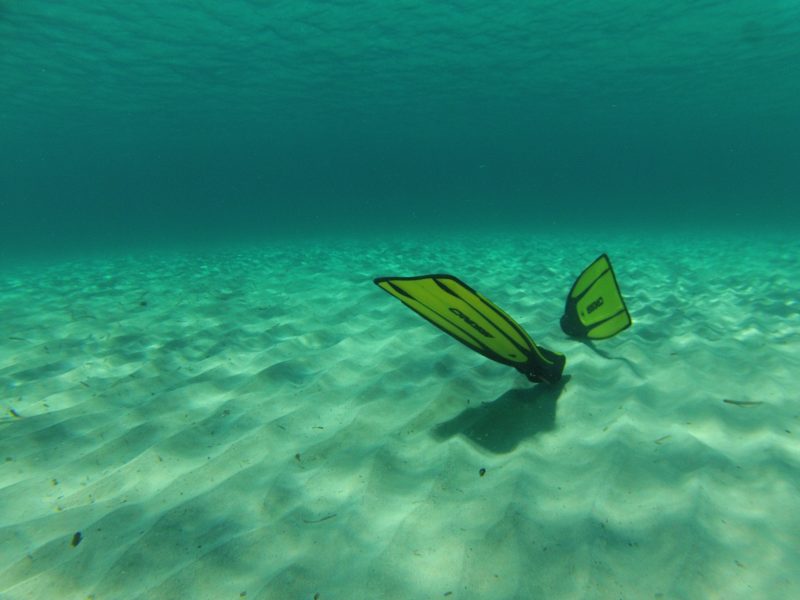 You don't need anything to do a scuba diving baptism, as the center where you do it will rent you all the equipment.
What I recommend wearing are your diving goggles (in case you have), in case you prefer not to share equipment with other people.
Where can I do a Scuba Diving Baptism in Menorca?
You can do a scuba diving baptism in any of the diving centers of Menorca.
If you want an activity with a closed price near Ciutadella, you can do this scuba diving baptism for 75 euros in Cala en Blanes.
What does the 75€ Diving Baptism Activity of Cala in Blanes include?
If you decide to do the baptism activity of 75€ in Cala en Blanes (5min from Ciutadella), here is what is included:
Pick-up in the urban center of Cituadella or in the urbanization of Cala en Blanes
Basic diving equipment
Theoretical explanations needed for the activity
Exercises on the beach with the water up to your knees (before doing the diving immersion)
Immersion in the sea at a maximum of 12 meters and for a maximum of 40 minutes.
Free cancellation up to 14 days before the activity.
The activity ends at the dive center and is only allowed from the age of 8.
Important: Flight Restrictions After Doing the Diving Baptism
After doing a scuba diving baptism you will not be able to catch a plane until 24 hours after the dive.
You will also not be able to climb high mountains until after 24 hours,although that is not a problem in Menorca 🙂