Última actualización: 03/12/2020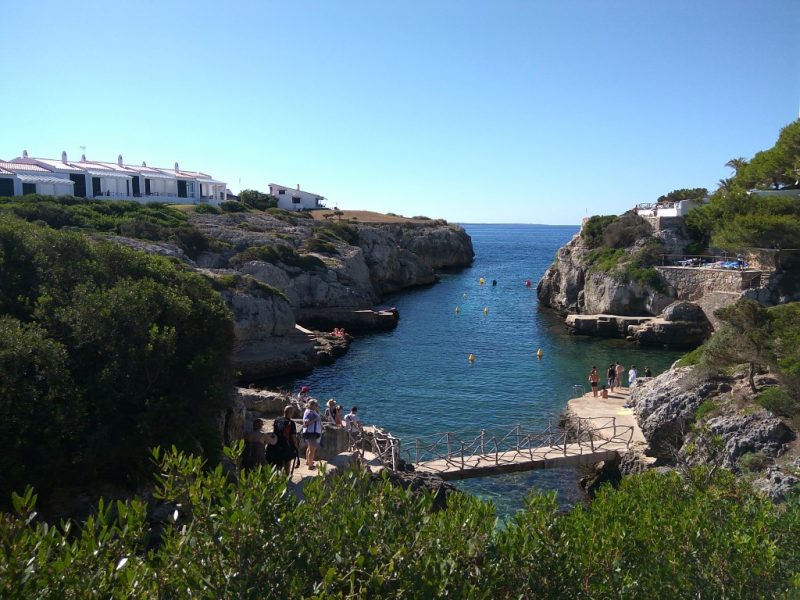 Cala en Forcat is a tiny beach located in the urbanization of Los Delfines,an urbanization very prepared for local and foreign tourists about 7 km from Ciutadella.
Cala en Forcat is a fairly closed beach and surrounded by artificial platforms. Although there is a small sandy area through which you can access the sea, most people use the platforms surrounding the cove to sunbathe or relax.
Its proximity to the Farragut hotel (can be reached on a 2-minute walk) makes it almost always quite frequented in high season. If you are looking for a seafront hotel with access to a small cove, it is possible that with the Farragut and this cove you have found what you were looking for.
How to Get to Cala en Forcat
Cala en Forcat can be easily reached by car, bike and on foot, as it is a well indicated and has paved road accesses.
Although it is surely not worth coming to this beach from so far away, if you come from Maò you have to go to Ciutadella, and before entering Ciutadella follow the signs towards the urbanization of Los Delfines. When you are entering Los Delfines you simply follow the signs towards Cala en Forcat.
There are some free parking areas around the beach, but only about 10 cars can fit in. Most of the people who come to this beach are tourists staying in the surrounding area and local people who live nearby, so it is not as hard to find room as you might think.
Once There…
The good thing about Cala en Forcat is that it is located in a very high tourist concentration area. This means that there are many complementary activities to the beach that you can do.
On the same beach there is a tiny dive center, the happysub,where you can request lessons, diving baptisms or even take the PADI Open Water.
If you like snorkeling,Cala en Forcat is an excellent beach where you can see a lot of wildlife if you get away from the areas more moved by tourists and boats.
Go Play Padel with Sea Views
If you are in Cala en Forcat you can come and play Padel on the courts of Hotel Farragut. They have 4 courts with sea views.
Beware in summer that the temperatures and humidity in summer are very high, so it is better not to play between 12 and 5pm.
Discover the Famous Pont d'en Gil
In the same area of Los Delfines, just over 1 km from the beach, you can visit the famous Pont den Gil,and take before or after the tour a dark chocolatecreppe or a fruit smoothie in the Jimmy Hills Creperie.
The Pont d'en Gil is one of the most popular places in the area to watch the sunset, along with the Sa Posta de Sol Bar.
Photos
Map and Points of Interest