Binibèquer Vell (Binibeca)
Última actualización: 21/03/2020
Binibéquer Vell (or Binibeca Vell) is one of the most visited areas of Menorca during the summer. It is a "village" built in 1972 as an imitation of the old fishermen's houses. If you're looking for some information about its history, you may find very derogatory comments about Binibèquer. For some people it is only a"big lie",a village built to trick tourists into believing that it is an authentic old fishing village.
Regardless of its authenticity, the truth is that It is worth a visit,as it is a nice place, with small white houses and narrow alleys, where it is quite fun to wander around. If you like photography do not forget the camera because it is the perfect place for nice shots.
How to Get There
Going to Binibèquer is very easy. From Maó just go to Sant Lluís and then follow the signs. The road that leads from Sant Lluís to Binibéquer is very nice, especially if you there is no traffic.
From Ciutadella,you have to take the main road to Maó, and take the detour to Sant Lluís. From there you just have to follow the signs to Binebéquer Vell.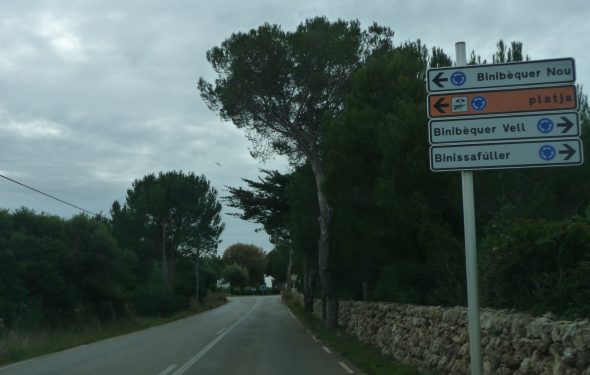 Once There…
When you're in Binibèquer, it's a must to take a walk through the narrow alleys and see the little white houses. Apart from visiting it, you will find restaurants and a shopping center right at the entrance of the village.
I personally recommend visiting it before the month of August, as you can enjoy the tranquility and silence of the place. All the photographs you can see on this page have been taken in winter. If you visit it in winter, keep in mind that all the stores and restaurants will be closed (bring food if you want to spend a few hours) and you will be able to see a deserted village.
You can combine the visit to the village with a beach time in some of the beautiful calas near Sant Lluis. In addition to the beach of Binibeca,you can go to the beaches of Biniancolla, Binisafuller, Biniparratx and Binidalí,all in theSouth Zone of Menorca.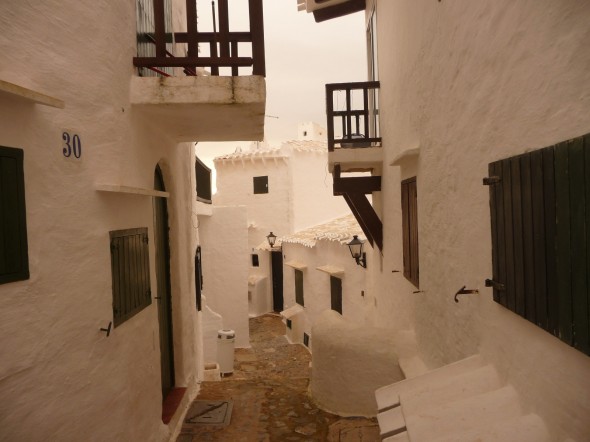 Photos
Map and Points of Interest
Binibèquer Accommodation