10 Places of Interest to Visit in Menorca
Última actualización: 13/04/2020
We are not tired of saying that Menorca is much more than sun and beach. Yes, the beaches are paradisiacal and they are the main attraction, but Menorca has places of interest throughout its territory. If you are going to stay a long time or if during your stay you find yourself with rainy or cloudy days, here are 10 plans in Menorca that you can't miss.
We're lighthouse lovers. For the beautiful photographs they give you, for the stunning landscapes that are seen from where they are and for the wonderful sunsets that you can live from some of them.
In Menorca there are 5 main lighthouses: Punta Nati, Cavallería, Favàritx, Illa de l'aire and Artrutx. Each one has its peculiarities, but they are all worthy to see.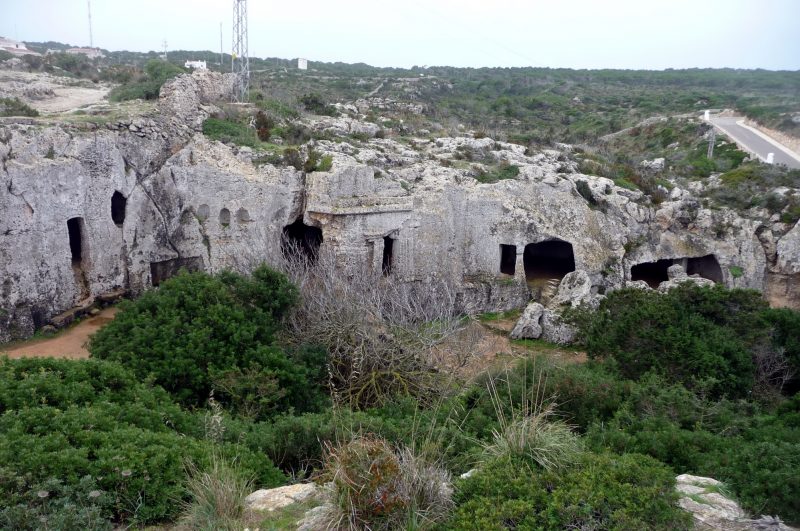 Cala Morell is not the typical cala of tourist guides but it is one of our favorites places for snorkeling. Also if you go to the beach with children you will see many crabs on the rocks and they will get tired of throwing pebbles in the water.
Near the cala, you will find the necropolis of Cala Morell. It is the second most important on the island, after the necropolis of Cales Coves. It is a cemetery with 14 burial caves from the pre-Talayotic era and which were in use until the 2nd century A.D. The visit is free and it is very interesting. If you go with children they will like to climb the rocks and "windows" of the caves and play scouts.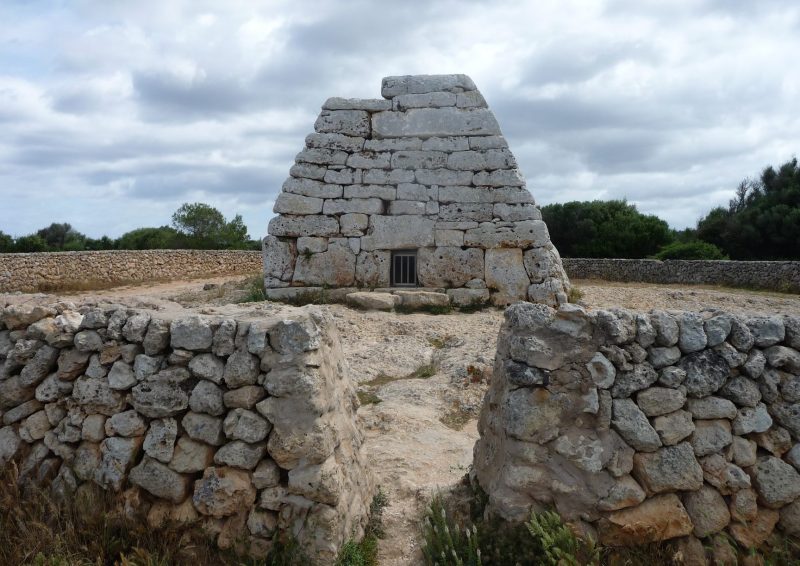 La Naveta des Tudons is the best preserved prehistoric building in Menorca and the oldest fully preserved building in all of Europe. It is a funeral tomb dating from around 1000 BC. In it the archaelogists found more than 100 bodies and many objects of bronze, ceramics and bone.
A very interesting place to visit and get to know the Menorcan history. It is very close to Ciutadella and can be visited for only 2 euros.
Monte Toro is the highest mountain in Menorca with 358 meters of height. It is located in Mercadal and from its top, on clear days, you will be able to see the whole island.
In Monte Toro there are several TV repeaters (it takes away the charm a little) and also the Sanctuary of the Virgin of The Toro,patron saint of Menorca. There are two versions about the mountain name but the one that seems true is that its name comes from "tor" which in Arabic means height.
Very close to Ciutadella you will find these quarries from where sea stones used in the construction of many buildings of the island were once extracted.
You can visit them and you will be surprised by the height of its walls. In summer in the evenings they do activities for children and at night some concerts that turn the space into a magical place.
They also hide a small botanical garden. Your visit can last 1 hour approximately.
The Fortress La Mola,also called Fortaleza Isabel II, is located in the port of Mahón and is an example of 19th century military architecture in Menorca. It was built as a form of defense of the important port of Maó and today it is preserved in very good condition. You will able to see all its layout and its walls almost intact.
Another of the strengths of the Fortress is its location. It is in a Special Area for the Protection of Birds (ZEPA) and in spring and autumn several migratory species can be observed. From la Mola you can have a splendid view of the entire port of Maó.
7 Talayotic village of Son Catlar
Son Catlar, located near Ciutadella, on the road to Son Saura, is the largest Talayotic village that is preserved in the Balearic Islands. The village is surrounded by a large cyclopean wall (built with large blocks of stone without any material binding them) more than 900 meters long. In the village there are 3 well preserved talayots and you can see towers, bastions, foundations and a main entrance door. Outside the wall there are some remains of Talayotic dwellings and near the farmhouse, a small necropolis.
Admission is free.
La Cova de'n Xoroi is a natural space above cliffs in the area of Cala en Porter,in the south of Menorca. Legend has it that it was the place where Xoroi, possibly the only survivor of a shipwreck, took refuge and lived.
It is currently a fabulous open viewpoint that you can visit by day to contemplate the spectacular views (the best plan if you go with children). You could also have a drink in the evening while watching the sunset, or enjoy at night one of the most famous music clubs of Menorca.
Prices and Bookings of the Round Trip from Your Hotel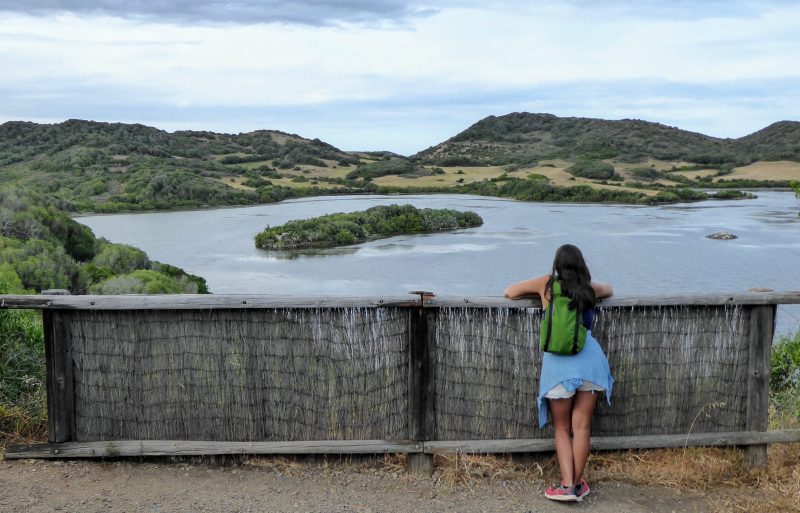 The Albufera des Grau is located in the north of Menorca, near Maó, and is the wettest area of the island.
It is a good place for lovers of nature, birds and walking routes. There you will see numerous birds of prey as well as waterfowl. There are three different routes to visit the Albufera.
Our recommendation is that you go directly to the Rodríguez Femenias Reception Center where they can inform you about each of them and their duration.
10 Fornells Tower
The Tower of Fornells is an English defence tower built between 1801 and 1802 to monitor the entrance to the port of Fornells. It is one of the largest towers of Menorca, made of dry stone and located in an enclave from where you can see at least two other towers, so that communication could be established between them. The views from your terrace are beautiful.
Prices for adults are around 2 euros and children under 8 years old do not pay.
They open every morning every day, but I recommend confirming schedules and prices at 971 368 678.
Taking advantage of the visit we also recommend a walk through Fornells and enjoy a "caldereta" in one of its restaurants. If you want to try one, Fornells is the place.
Bonus: Torralba d'en Salord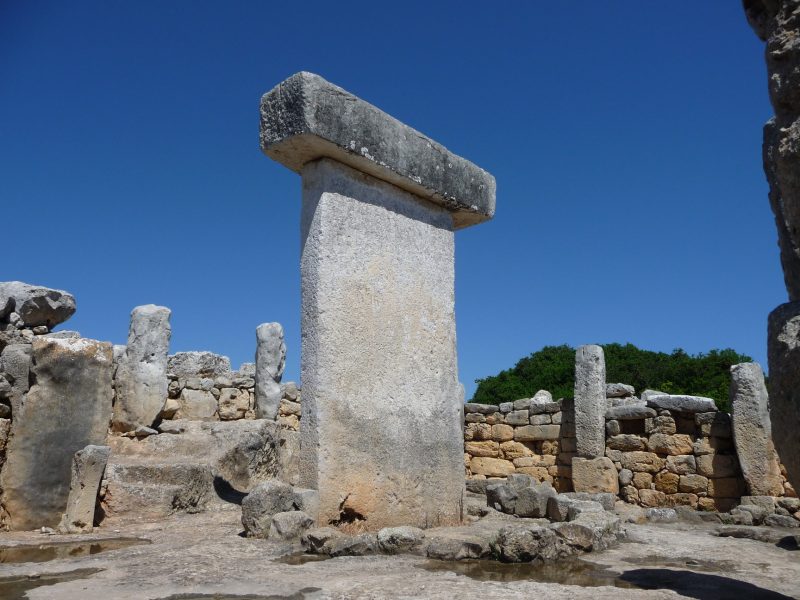 Torralba d'en Salord (or Salort) is a prehistoric Talayotic village near Cala en Porter, Alaior. The origin of this settlement is between 1700 and 1400 BC.
Although the village is in bad condition, the sanctuary and the Taula which measures about 4m high are perfectly preserved.
The Taula de Torralba d'en Salord is one of the best preserved in Menorca.
Map of Accommodations in Menorca